London Visit: Part 14 - Week Two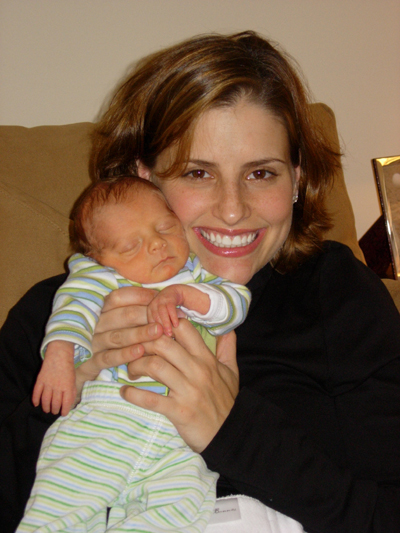 Baby Callum is now 10 days old. The National Health Service provides at-home, mid-wife, after-birth care so he was weighed at 1 week and was almost back to his birthweight. He eats, sleeps, and spends a little time between each feeding with his eyes open. Henry and Syd check in on him periodically but have been busy with a belated birthday party and Christmas.
I continue to do a daily sketch, but most have been items or scenes from around the house or neighborhood.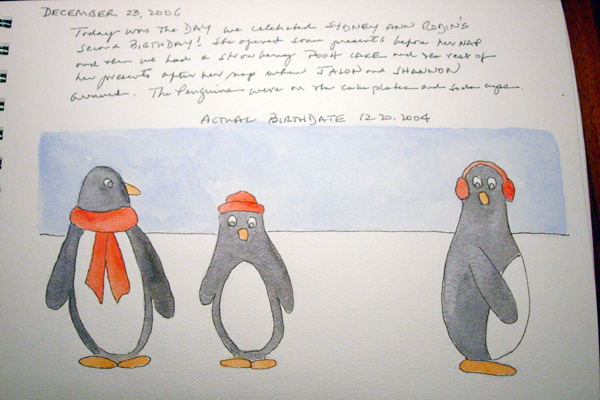 Sydney had her belated birthday party on December 23rd (instead of 12/20 when Mom and Callum were still in the hospital). My daughter made a Pooh cake for her and had Happy Feet penguin plates and cups. She and Callum will have birthdays one day apart in the future!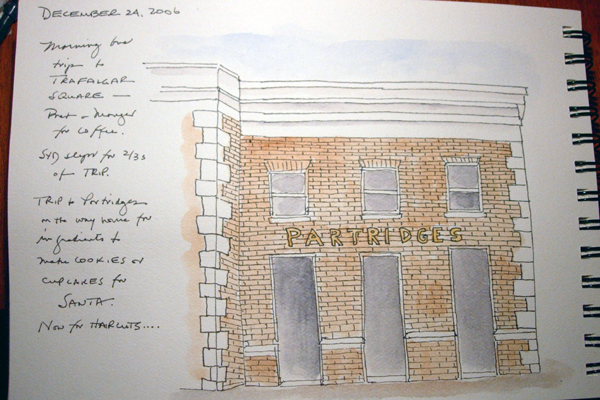 Partidge's, in Duke of York Square, is the specialty food shop in the area - a place where we stop for fresh baked bread on our way home at lunch or dinnertime. This is the first time that I sketched individual bricks - and it made me realize that I get no joy from these kinds of details!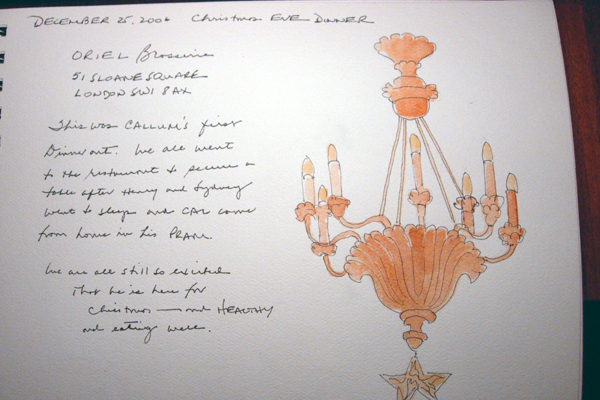 My daughter, son-in-law, and baby Callum joined the rest of us for Christmas Eve dinner at Oriel, a brasserie on Sloane Square. There are almost no restaurants open in the area on Christmas and our son and daughter-in-law arrived from Washington DC to see their new nephew and celebrate the holiday. The restaurant was very gracious and set up an area next to the table for Callum's pram. He was bundled and slept peacefully during dinner.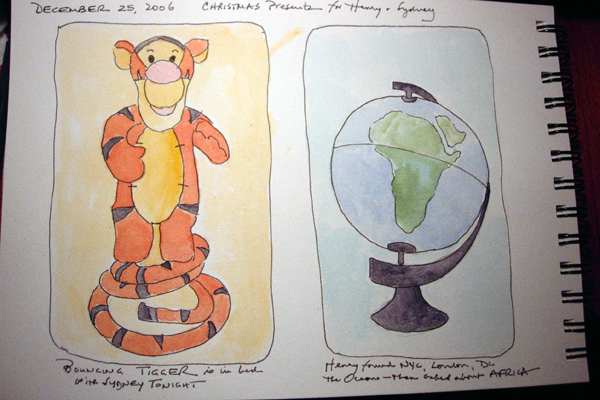 We bought Christmas presents for Henry and Sydney when we were here in October - and they really seemed to enjoy them. She now takes the big bouncing Tigger to bed with her - along with monkey, books, a special pillow, quilt etc. Henry learned where New York, London, and Washington DC are on the globe and then had fun telling us about the Atlantic and Pacific oceans. He wanted to find out where Africa was before we put it on the shelf.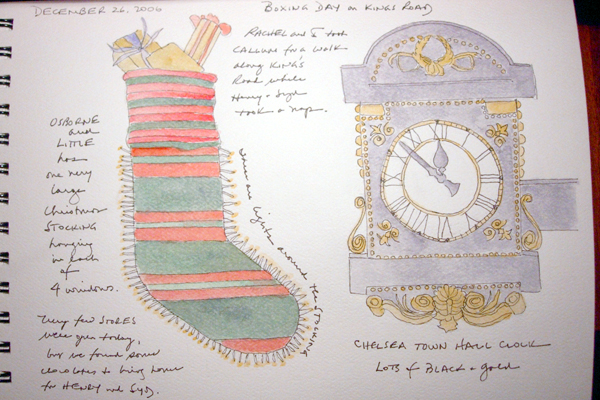 The neighborhood was very quiet on Boxing Day. While Henry and Syd went to Battersea Park with the guys to ride scooters, Rachel and I took Callum for fresh air and a stroll along King's Road. We have no idea what Boxing Day commemorates and saw many possible explanations on Wikipedia. Osborne and Little (that previously had ice cream cones and fish in their 4 windows), now has gigantic Christmas stockings outlined with little white lights. I also sketched the clock on the Chelsea Town Hall, something I wanted to do since July.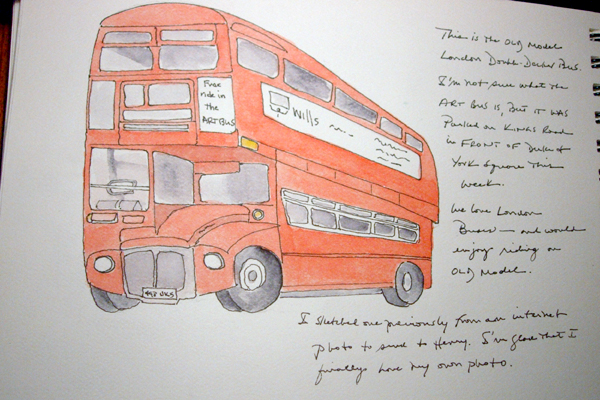 There was a special, old-model London double-decker bus parked along Duke of York Square the other day. I previously sketched one for my grandson from a photo on Morgue file - but now saw one myself on the street. I never found out the significance of a free ride in the Art Bus. We take buses all over the city and love to take Henry and Sydney to the top deck!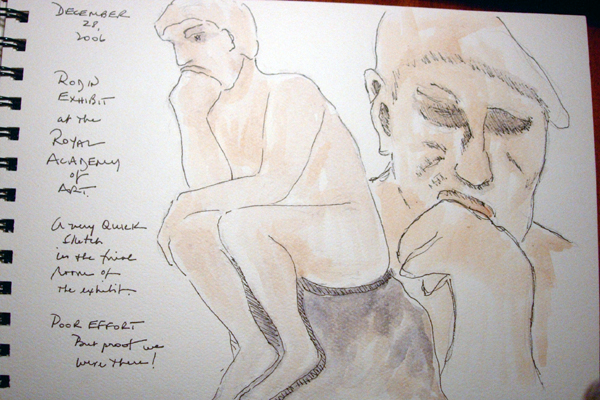 Yesterday my husband and I went to the Rodin exhibit at the Royal Academy and I did a 2 minute sketch of "The Thinker." I hate uploading this because it is really out of proportion and barely representational. But it is my daily sketch and part of my learning process. Today we are off to the Imperial War Museum again with Henry and Syd. They LOVE the interactive submarine and ask us to return during our visits.