Barcelona Travel Sketchbook - 6
This is the final blog post from my travel sketchbook. The remainder of the pages are filled with a few photos and relevant business cards. One beautiful day we took the Metro close to Barceloneta and set off for our longest walk of the trip. We walked along the waterfront of the peninsula, past the gorgeous boats, and all the way out to the W Hotel for lunch.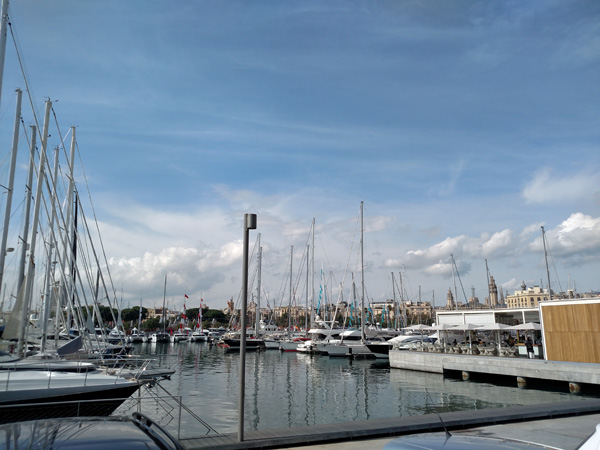 There are lots of outdoor restaurants adjacent to the hotel, and we stopped for a late lunch and a rest. During lunch I "sketched what was in front of me," my internal guide for drawing all through this vacation. Then we continued our walk along the entire beach front where people were enjoying the warm day.
Another day we decided to walk around the western part of Eixamples, to see the area behind the University of Barcelona. There are many galleries in the area, and we enjoyed visiting them and the Museu del Modernisme which has one floor of furniture and another floor of paintings and sculpture. They had a Ramon Casas exhibit that I wanted to see, but was disappointed with the museum lighting. Before we left I sketched a terracotta sculpture of Antoni Gaudi.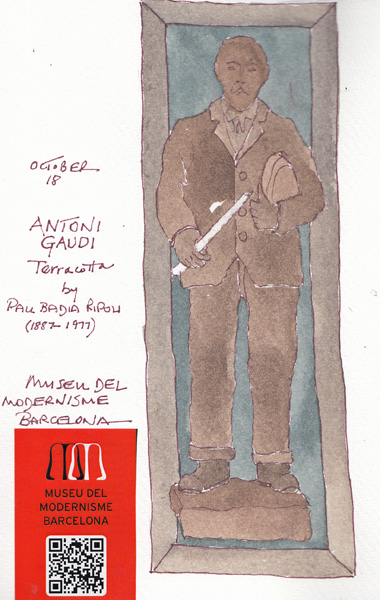 On our last day we visited the Royal Catalan Academy of Fine Arts, where Picasso, and Gaudi attended art school many years before it moved to a new location. The space is now occupied by a small museum featuring the art of the faculty from the school. It is located in Llotja (The Maritime Exchange) and from there we enjoyed walking through Born-Ribera, and from Barri Gotic, all the way back to Eixamples. I loved this sculpture.
I started my sketchbook with a painting of Maurice Sendak's Micky in his bread dough airplane, and also added Mickey flying home to the last page. We loved Barcelona and our very leisurely exploration of this beautiful city.