Quebec Travel Sketchbook = 6
Montreal (Last Entry)
These are the last of my selected sketchbook pages from our days in Montreal. In total, I have uploaded approximately two-thirds of the pages that I completed - and filling the entire 36 page recycled sketchbook thrills me. I have connected with old friends and new friends planning to visit Quebec Province this summer and even received emails from EDM members who are just planning a trip. Because Domenic started a thread on the Every Day Matters Message Board re: sketching while traveling with a non-sketcher, I tried to add some notes about when and how I sketched during this trip - bottom line = FAST. That means that nothing would ever be considered a finished painting, but I have wonderful memories of a fabulous, relaxing vacation in two cities that I only previously read about.
I sketched Pointe a Calliere from the steps at Place Royale while my husband was at the hotel gym late one afternoon and painted it from photos back in the hotel at night. It was the most challenging architectural sketch I did - and there was lots of erasing before I was satisfied. This point along the St. Lawrence River is the site of the original settlement of Montreal and the History and Archeology Museum was constructed on the site. Archeologists are still actively "digging" underneath to identify the original buildings and to save artefacts in the Museum.
Our last night in Montreal we returned to Modavie, a restaurant on rue St-Paul that has live jazz. I sketched the singer and the band quickly while we waited for our food - which was lucky because they took a break that didn't end until we were almost ready to leave. The singer returned from break with her jacket on so I sketched her a second time while finishing my coffee. They were painted using my small travel paints and a Niji waterbrush while we were at the restaurant. A double page spread didn't fit on my scanner, so this is a photo.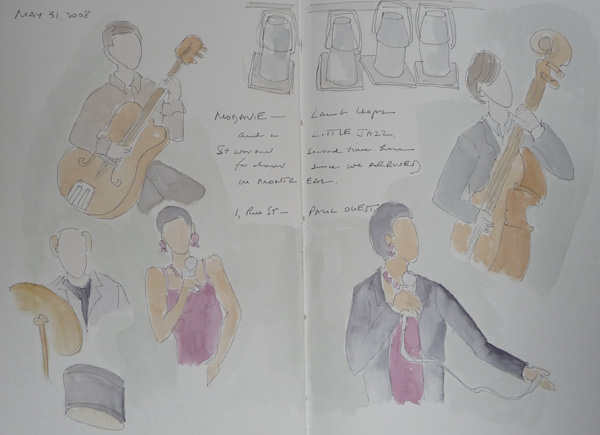 On our last morning in Montreal we took a final, very long walk around Vieux Montreal, following a lovely walking guide I purchased at Point a Calliere. We saw most of these streets and buildings previously, but the Pierre du Calvet House was a new, wonderful discovery. I sat on the front of Marche Bonsecours to sketch it while my husband went in for a few minutes. When he returned, he took a photo of me finishing the sketch.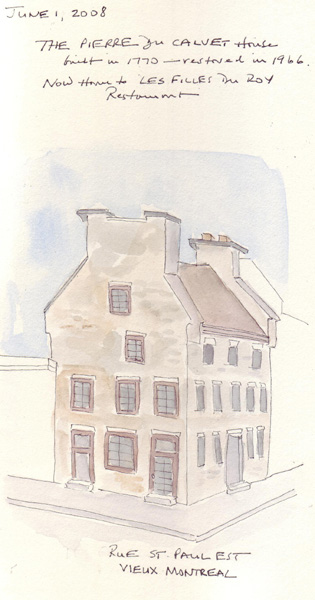 I used Arches and Fabriano 140 lb watercolor paper in this sketchbook and I'm disappointed in the yellow tinge to the background of the scanned sketches. The backgrounds on the Fabriano 140 lb extra-white CP paper are almost white, but I didn't like using the CP paper as much as the HP. I'm most familiar with this scanner and my Moleskine watercolor paper - and I couldn't take the time to investigate my scanner settings this week if I wanted to upload the travel sketches before my vacation is over and work beckons.
It was fun to share my sketchbook with the EDM members who inspire me with their world-wide travel and art. Thanks again for your blog visits.