Studying Under the Masters - Georgia O'Keeffe 1
I selected the oil painting named Cow Skull and Two Calico Roses to copy - converting it to watercolor which is my chosen medium. During this class I watch our art teacher of the week paint a copy of her chosen Master, and then look at many images of our Master artist's work (in books and online) and select one that speaks to me. I need to then think about how I will transform an oil painting into one done in watercolor.
I selected this O'Keeffee painting from a book of 100 flowers by O'Keeffe - and because I was working so big I added a few grid lines to the illustration so I could draw it on my watercolor paper and approximate the original size and shape. The 4 X 4 grid lines are visible here. The illustration has a glossy surface and the colors were washed out a little in the photo.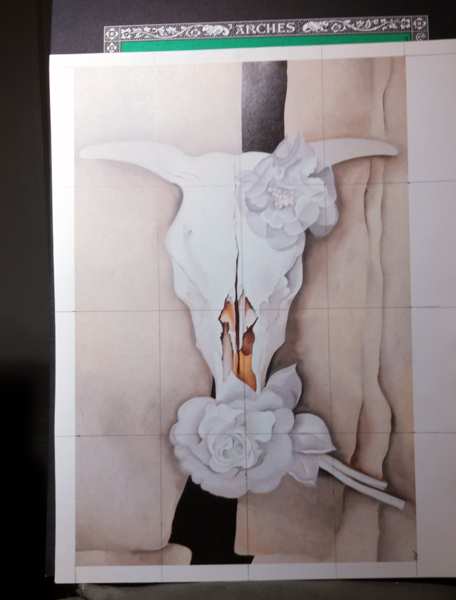 I wanted to use titanium white gouache to get more experience using it for shades of white - and used it mixed with watercolor for white areas of the skull and both flowers. The background and the colored areas of the skull were painted with watercolors.
Here is my finished painting - photographed with my cell phone.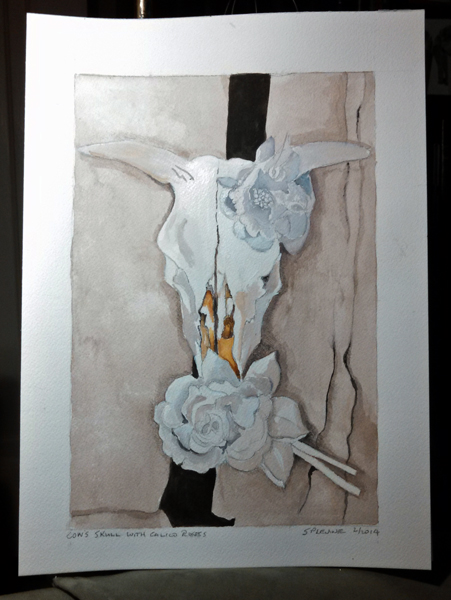 And here it is scanned on a flat bed scanner that is made only for 8.5 X 11 inch paper.