More Sketchbook Pages From Venice 2017
We had a beautiful view from our apartment balcony, and could even see a portion of the Grand Canal. I went out for a morning look and quick photo each day, and finally sketched the scene. I've never painted red tile roofs close-up before, however, and after finding a excellent online tutorial, I waited until we came home to finish the painting. The tiles really looked that varied and were so many colors.
Painting terracotta roof tiles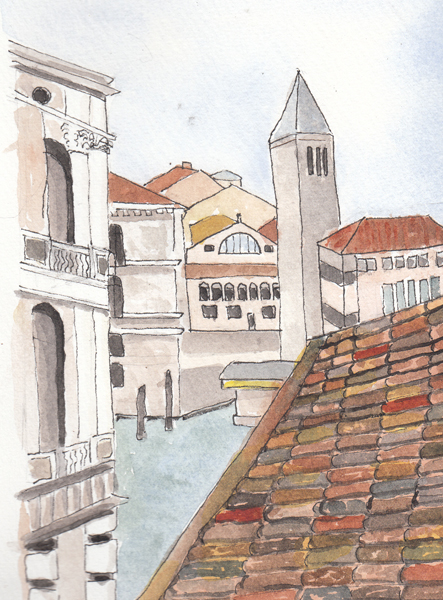 View of Window on the Side Wall of Ca' Rezzonico Museum from Our Apartment: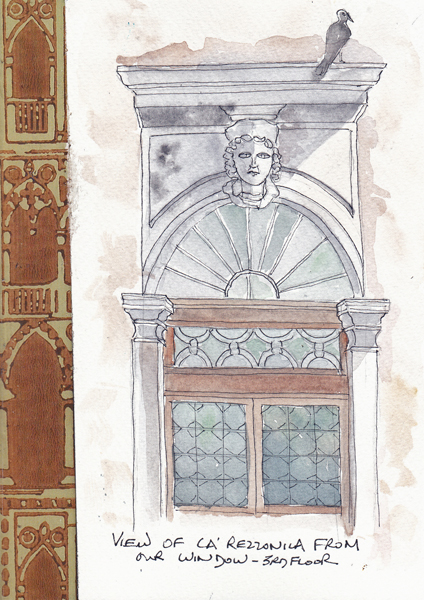 Here are two additional sketchbook pages from the final days in Venice - one drawn while drinking wine in the late afternoon and the other at our last dinner before departure. These are more examples of just drawing what was in front of me.
Side wall of Chiesa Zanipoli (Castello Sestiere) as we sipped wine in an outdoor restaurant:
My view from dinner in the garden at Corte Sconta Restaurant- a favorite of ours from a prior visit.