Beach Vacation One - 2018
We are at the beach with friends, and loving our early morning walks. In spite of the thousands of shells I've collected, I still love looking for more. But on our first 2 mile walk we saw almost none. I therefore picked up a few items to draw and paint for the day. I only learned about "wampum" several summers ago on Martha's Vineyard. It is the purple part of quahog clam shells, and beautiful jewelry is made from this parts. Wikipedia says it was used by the Northeast Indian tribes as a form of gift exchange, and the colonists adopted it as currency when trading with them. I found quite a few pieces here, but don't remember noticing these fragments in prior years on these beaches.
These pages were photographed and not scanned. I was able to make the backgrounds slightly whiter in Photoshop, but definitely need more help with this.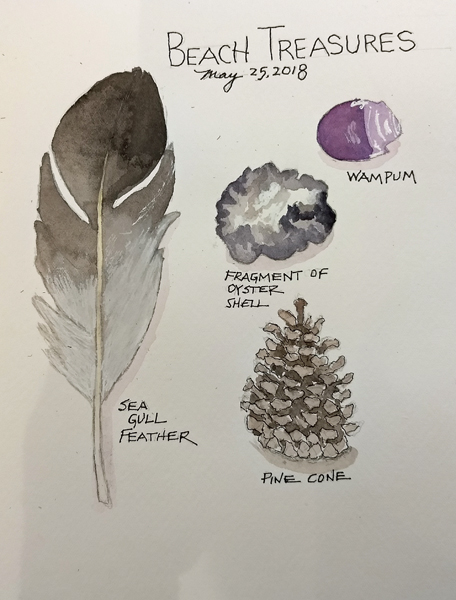 My husband and his friend walking in front of us.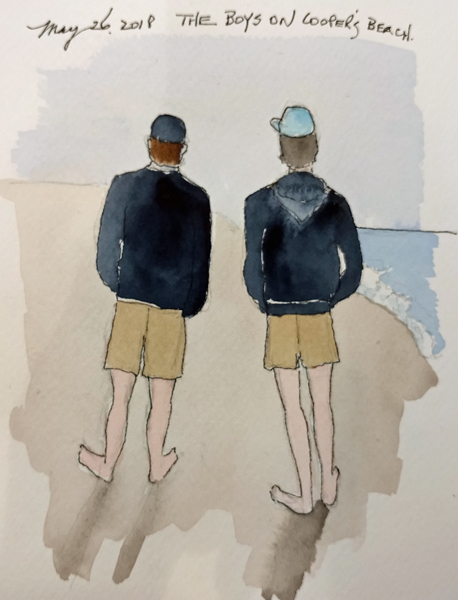 I love the smooth stones we see on the beach - they are buffeted by the surf and have such beautiful shapes and surfaces. I spent a considerable amount of time looking for watercolor tutorials about painting them, and finally painted them wet-in-wet.