Are We Reopening Just as Omicron Subvariant BA.2 is Increasing?
Are we reopening too fast, just when the Omicron BA.2 subvariant is now present across the country and is already slowly increasing as a percentage of all cases? Everyone is anxious to return to our pre-Covid lives, but scientists have no idea whether BA.2 will soon surge or remain at very low levels in the US. There is data demonstrating that BA.2 is 30% more transmissible than BA.1. There is no information about whether it causes more severe disease. To date there is no more immune evasion than is seen with BA.1, even though it has many more mutations.
BA.2 is 3.9% of new infections in the US, and already 6% in NY. In NY it was reported at 1.6% on 1/29, 2.5% on 2/5, and 6.0% on 2/12. It takes up to a week for the genomic sequencing to be reported, so the 6% is a report from samples collected a week before. Those 3 numbers look like exponential growth - hopefully the next data will be published soon, and we may know whether the BA.2 subvariant will cause another surge. Although the infection rate in NY was steadily decreasing it is now steady at approximately 1-2% in NY state, New York City, and Manhattan for the last 6 days. Is this because the BA.2 subvariant is increasing as the BA.1 subvariant is decreasing? The US still has more than 100,000 new Covid cases each day, and more than 2000 deaths/day. Another surge now will be dangerous for the unvaccinated, <5. and vaccinated older adults, and immunodeficient people.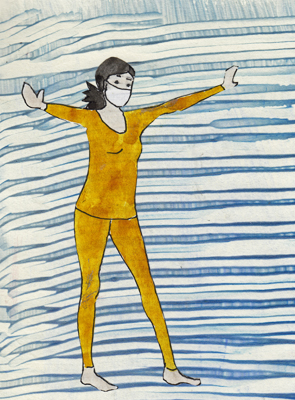 We all have to decide how much risk we are willing to take. But as you make these decisions, please be ready to mask up again, especially in indoor crowds. And if you have been vaccinated, but not boosted, there is accumulating evidence from recent studies that the booster doses even maintain some immune protection against the subvariants.