Drawings from My Imagination - Koosje Koene Homework
I am taking the Sketchbook Skool Class called Imagining. Koosje Koene, co founder of Sketchbook Skool, demonstrated her approach to a 5 day imagination drawing. She sat down each day without a specific plan and allowed ideas to appear. She said there is a concept in the Netherlands called "The Red Thread" which means something that follows a subtle theme. She sketched elements of sky, with a red thread as a link across the pages of an accordion book, and sketched clouds, electrical wires, birds, a face, a crocodile, even wrapping 1t around the moon.
Instead of using a red thread to link my drawings, as in her demo, I decided to add some more illustrations to the storyline of my imaginary characters Axel and Alice.
I created Axel during Fabio Consoli's imagination homework assignment in the Sketchbook School Class called Stretching . The character on the far right was created by my grandson Zach (who was then in his final year of pre-school). I had to take a child's drawing and expand upon it. Zach said that he thought that Axel came from the moon, and his head was that shape because of the phase of the moon when he was born.
I draw Axel often and for the last two summers he was the subject of mail art on letter envelopes to my grandchildren in summer camp. He even became a Christmas ornament for our grandchildren.
I expanded the imaginary friend group in a watercolor illustration for my final project in my Illustration Class last semester at FIT.
All of my grandchildren relate to Axel, and I thought it would be fun to create a short storyline that would end with the above illustration. So here are my 5 days of drawings for Sketchbook Skool homework.
Day 1: Hi! I'm Axel. She doesn't even know I'm here. I'm looking for a place to live."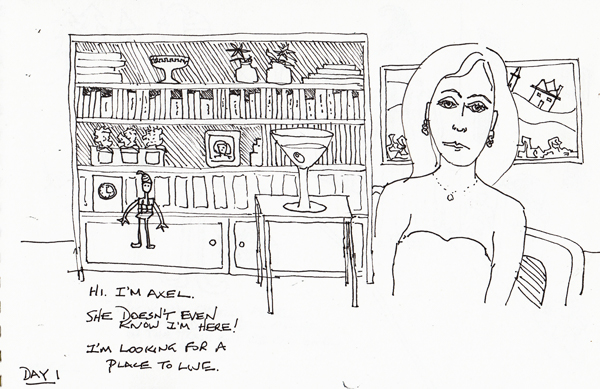 Day 2: "This is my friend Alice and she found this doll house in the trash, and we can live there."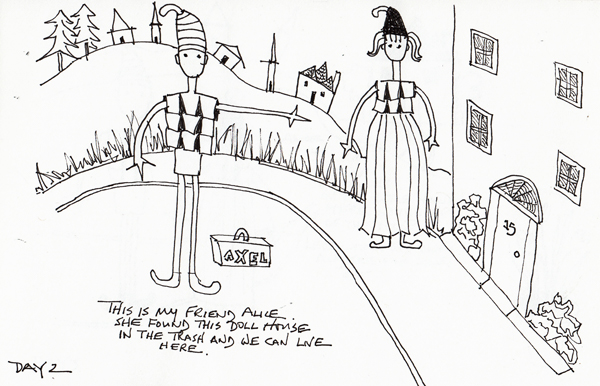 Day 3: "Alice, I wonder who lives in the little houses here on the top of the hill? Let's watch this one and see who comes out."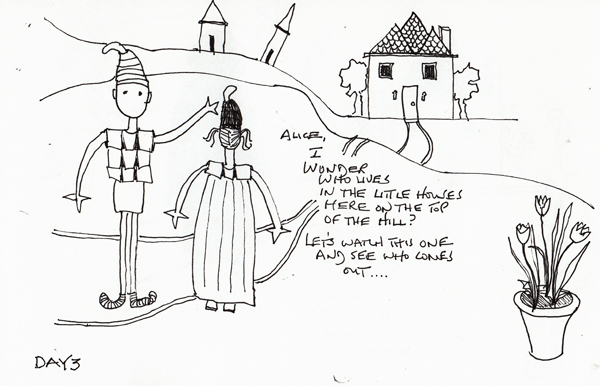 Day 4: Axel asks "Do you live in that house? Where do you come from? Jupiter? Where is that? Can we be friends? Who lives in the skinny house?"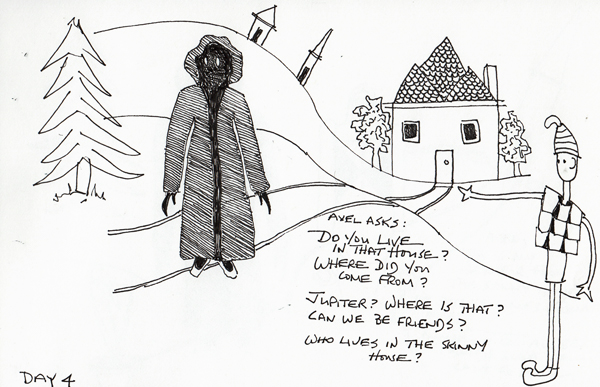 Day 5: "Axel, this is my neighbor from the skinny house. He says he comes from Mars. Maybe we can all be friends since we can't go home."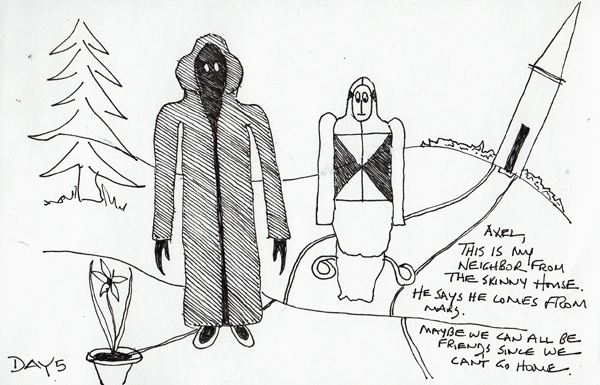 To be continued.