Direct Watercolor Painting Challenge - No Pen or Pencil

It was hard for me to add to my Summer Vacation Sketchbook and a special sketchbook for direct watercolor painting when we were on vacation - so I am behind already. I made a 16 page Teesha Moore pamphlet book with one sheet of 140 lb watercolor paper for the challenge (from her online tutorial) and this first painting was done on the narrow cover flap.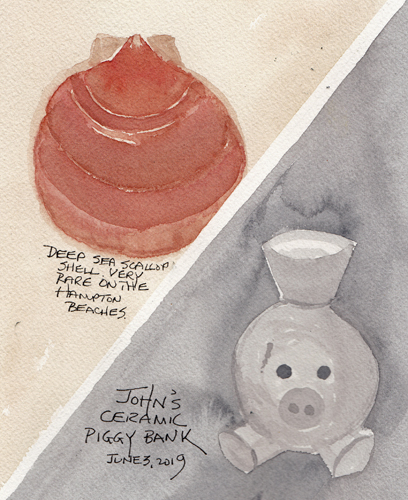 Several more paintings without a pen or pencil: A deep sea scallop shell found on the beach in Southampton last year and a white ceramic piggy bank that was in our vacation house.
I did this challenge each day in June last year and learned so much more about my watercolors. I will try to finish the challenge by June 30th, but if not I'll continue in July!