Will There Be Another Surge?
"Two years into the official pandemic, Covid-19 remains an emergency" writes Dr. Jeremy Faust.
On March 11, 2020 the WHO declared the SARS-CoV-2 a pandemic. By April 22, there were 2200 more daily deaths than the average number of deaths per day in the US. Since then there have been over 1 million "excess deaths" in the US in the last 2 years - defined as the reported number of deaths compared to the expected number of deaths in a given period.
Dr. Faust wrote this week that we are still in an epidemiologic emergency. He goes on to say that it depends on what metric you want to use. He believes that the strongest and most reliable indicator for the US is "excess mortality." Now that rapid home tests are being done in record numbers, the number of cases, or percent of the virus in a given area, can no longer be an accurate measure of the circulating virus. In January 2022 the US death rates were nearly 130% of normal in adults 65+. February and March data are not available yet. Two days ago there were 1559 Covid deaths in the US. Why does it matter if we declare the emergency over? If the emergency is declared over there will not be continuing insurance coverage for millions of Americans on Medicaid, and telehealth services to millions of seniors on Medicare will end. The Executive Branch will also have less flexibility in fighting Covid-19. On the 2 year anniversary of the pandemic, cases and deaths are falling, but we need to see the number of excess deaths drop as well. See Below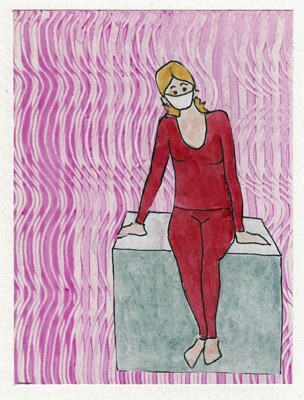 I follow the NY State, City, and Manhattan Covid case numbers and although the %infections fell very rapidly, they are now hovering at 1.4%, 1.1%, and 1.5% respectively - and seem to have plateaued. Many experts believe that the rise of the Omicron BA.2 variant will cause a long slow tail to the surge numbers. BA.2 is still increasing weekly and in the variant sequencing report released this week the variant has climbed to 17.7% in our region (US Region 2). It is more transmissible than Omicron BA.1, but probably not more severe. It is detected by current tests, and vaccines. We want the pandemic to be over so badly that I hope we didn't "open" too rapidly. We will soon know.