Fun Saturday in New York City
Guess Who Planned a Meetup for Sketchbook Skool Students last Saturday, in Washington Square Park, New York City?
When I partially retired from Medicine in 2005, I discovered Sketchbook Art and Danny Gregory's Everyday Matters Yahoo Group. Several months later, I started this blog to interact with other group members, and I now am a student of Sketchbook Skool (SBS), a very professional, online art education program. Danny and Koosje Koene are the co-developers of SBS and it was fun to finally meet Koosje who was visiting from Amsterdam.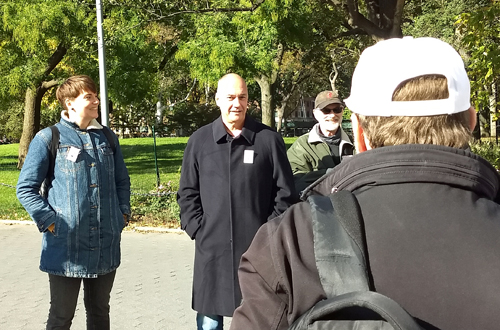 Double Page Sketchbook Painting: It was a cold, but sunny afternoon, and I sketched the Washington Square Arch and then some of the musicians who are always playing in the Park.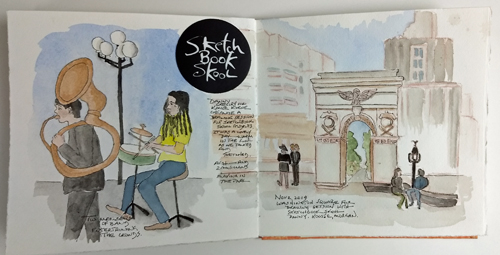 Wonderful Concert at Juilliard: That evening my husband and I went to a concert at Alice Tully Hall. The Historical Presentation Juilliard Students played two Telemann pieces and the Chorale was sung by Yale Sacred Music members. I started by sketching the first Violin, and then wanted to add the Conductor. Obviously I left out many musicians and singers. But there is enough on the page for me to remember the evening and the Baroque horn (of which there were 3) which we had never seen before.