London Visit- Part 2 Museum Visits
During our recent visit to London, my husband and I visited Museums while our grandchildren were busy with other activities. I really wanted to sketch/paint at least one page from each visit in my Travel Sketchbook, but needed to choose things to sketch very carefully - based on their complexity. My interests in textiles makes it natural for me to gravitate toward colors and designs so many of my sketches captured those passions. I chose some representative museum pages to upload here.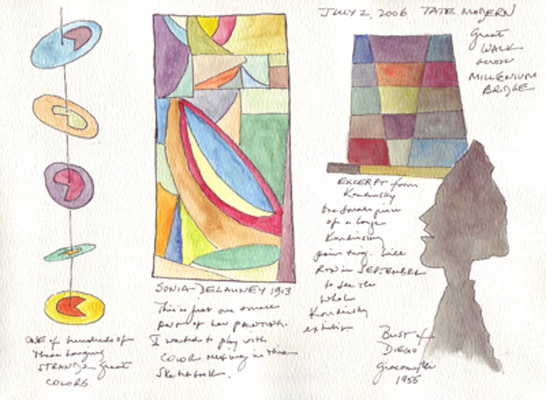 Tate Modern: We walked across the Millenium Bridge for our first ever visit to the Tate Modern. As we viewed the permanent exhibits, I was attracted to the brilliant colors of one strand of a hanging installation, a part of a Sonia Delaunay color block painting, a very small part of a Kandinsky painting and a Giacometti bust. It was our first full day in London and we decided to save the Kandinsky special exhibit to our next visit.
British Museum: The museum changed so much since our previous visits, but I was still attracted to the Elgin Marbles and specifically this horse's head. The upper right part of the page shows some mosaic designs that I loved in the Hellenistic Galleries. The wine bottle label is from the bottle that we shared enjoying the late afternoon "people-watching" in the outdoor Russell Square Park Cafe.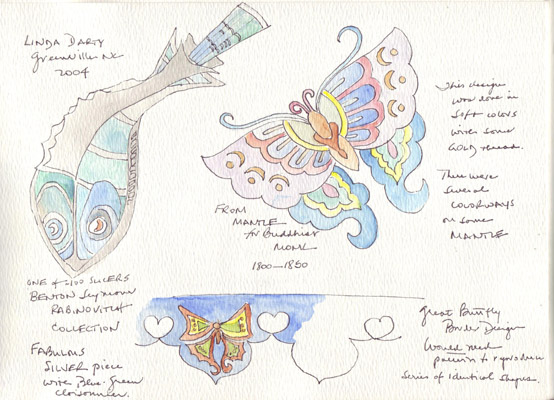 Victoria and Albert Musum: One of my long time favorite places in London! Unfortunately they are doing lots of renovations and the jewelry exhibit won't reopen until 2008. However, I found lots of designs that I loved in the Japanese galleries and was completely overwhelmed by a modern set of 100 silver cake slicers commissioned from the world's best silversmiths by a US Chemistry professor named Benton Seymore Rabinovitch. I only sketched the silver/blue cloisonnier fish from the collection, but could have spent all day in front of the exhibit cases. None of the quilts in the V&A collection were on open exhibit. I definitely need to invesitgate this before our next visit.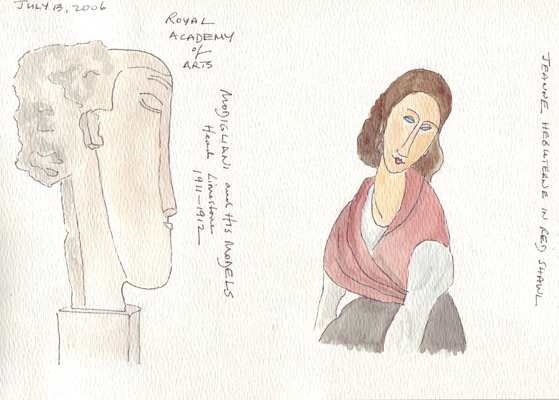 Royal Academy of Arts: There was a special Modigliani exhibit at the Royal Academy - 1 piece of sculpture and approximately 40 of his paintings. His 3rd mistress, Jeanne Hebuterne, was the model for many of his last paintings and she watched over him as he died of TB meningitis in his 30s.