Finally - Moleskine Watercolor Journal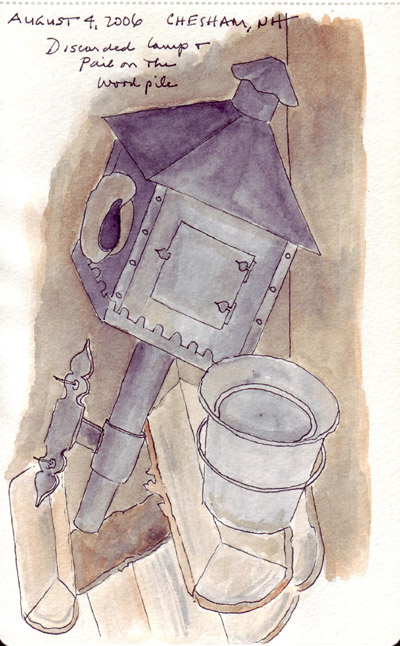 I have great difficulty using new journals and work best in my inexpensive spiral Aquabee. I shared my journal angst here previously on several occasions and this Moleskine actually was carried back and forth to Washington DC without a mark being entered. Since then I successfully used a Cachet linen watercolor journal while in London - and forced myself to take the Moleskine on a weekend trip to Chesham NH so I would have to use it for my daily sketch.
I loved this discarded old slightly rusty lantern that was propped on the wood pile with an aluminum pail used for citronella candles. There was little variation in color or tone in the "still-life" and I didn't try to add something that wasn't there. My goal: just get some pen and paints in the Moleskine journal-finally! However, as soon as I started using my journal, Moda & Moda sold Moleskine to the French so maybe I shouldn't get too attached. Perhaps the French will also get my email to Moda suggesting that Moleskine make the watercolor journal using the sketchbook format. I hate the shape of this book!! Their reply: We'll put it in our suggestion box....