London Visit - Part 12: Miscellaneous Sketches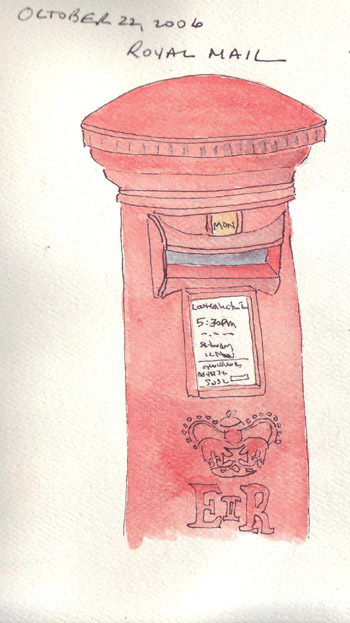 I love London public mailboxes and the old style public phone booths. This mailbox was painted very quickly in the rain during a walk to the grocery store on King's Road Chelsea. Click on each image for a larger size.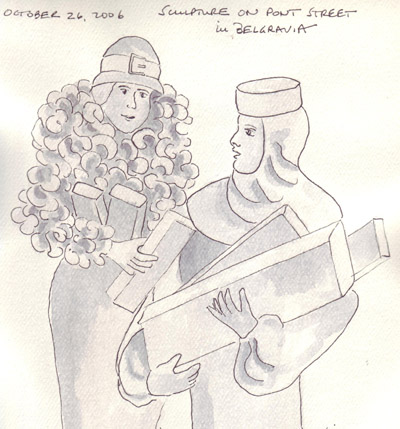 This is a statue on Pont Street in Belgravia - it is tucked into a small area with pretty trees and benches. I was fascinated to see that it is the logo for the Jeeves Complex - a group of stores in the area.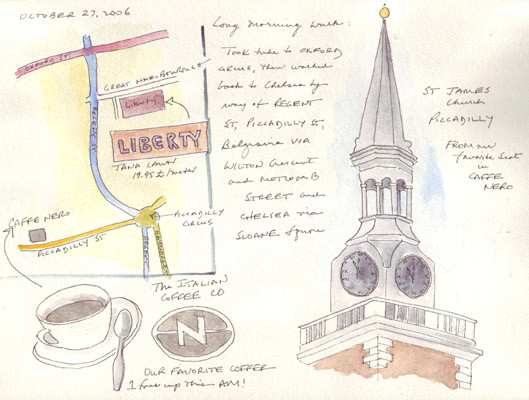 We walked from Oxford Circus all the way back to Chelsea - browsing all the way. My husband humored me by touring the fabric section at Liberty to price fabric for my latest quilt. When we stopped at Caffe Nero, our favorite coffee shop in London, I sketched the tower of the St. James Church across the street.
We took care of our grandchildren our last weekend in London while my daughter and her husband explored the town of Bath. By the time we finished a full day with them on Saturday, the only thing I could think of for my daily sketch was the bath tub toys that they just played with. My 22 month old grand daughter loves Pooh and his friends.