London Visit: Part 28
Hockney on Turner Watercolors at Tate Britain
I met Katherine Tyrrell of Making a Mark yesterday for a day at Tate Britain. We browsed through the Turner watercolors in the morning, had lunch at the museum Restaurant where we shared sketchbooks and sketched, and then enjoyed another Turner exhibit called "Color and Line" in the afternoon. Katherine is really good at reviewing London museum exhibits - and she has an information-packed entry on her blog today with links to his watercolors and other Turner information.
We both did a sketch during lunch. Katherine has her restaurant sketch posted on her Travels with a Sketchbook blog. Here is my rather hurried sketch in the restaurant: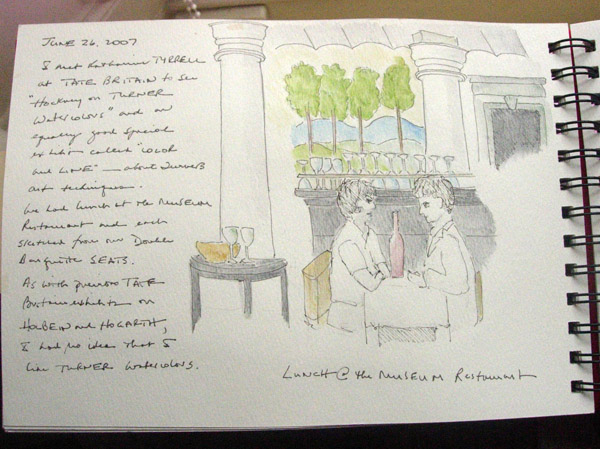 The Color and Line exhibit covered many of Turner's techniques - and his pigments. I loved how they dissected so many aspects of his art and had interactive displays. My favorite part was the drawing stations - set up with a block of paper and some pencils in front of approximately 8-9 of his sketches. I sat and worked from two of them - here are the results. Katherine has also linked to this exhibit on her blog today so you can see the originals for both of our "Turner" drawings there.