London Visits: Part 32 - Our Year Visiting London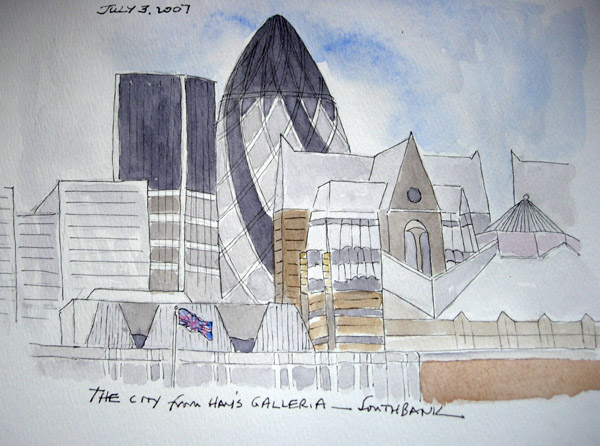 A view of The City from a riverside cafe at Hay's Galleria on the Southbank of the Thames.
We are nearing the end of a wonderful year during which we really got to know London so much better. It was a unique opportunity for us - being able to live in a terrace and shop in the local markets and stores in Chelsea. We were also, ever so briefly, part of a family that was working and going to school, going to doctor's visits, having a baby, and taking soccer and swimming lessons. But we also had time to ourselves to explore the streets, museums, theaters, famous national buildings, and restaurants.
Since July 2006 we have visited 6 times - each time for 2 weeks except for a 3 week visit over Christmas when our grandson decided to arrive 6 weeks early. Tomorrow we return to New York, leaving a house that feels sadly empty since our daughter and her family moved back to New York several days ago.
I'm surprised and delighted that I was able to complete this art project - finishing sketchbook #3 on this trip. Maintaining a daily sketchbook is new for me and my goal always was to develop enough skills to have many photos and a travel sketchbook from our travels. For London I used spiral Cachet Linen Watercolor Journals (9 " x 7" cold press paper) and was able to use both sides of every page without any problem. That means that I have approximately 150 pages of sketches - and all except a few have watercolor washes. I also will have a Liberty of London scrap quilt which I worked on while here to remember this year.
I am naturally drawn to all sketchbooks using pen with watercolor and I used Pigma micron pens in the beginning and Zig Millenium pens more recently. I have a small Daler Rowney travel watercolor set for days out and a palette with 12 W-N watercolor paints dried in the wells for home. I carry only my sketchbook, pen case, Niji waterbrushes, and paints in a small backpack when I leave the house.
Many of the sketchbook pages were uploaded and can be revisited by clicking through the London tag on the right side.