London Visit - Part 11: Chelsea, London, UK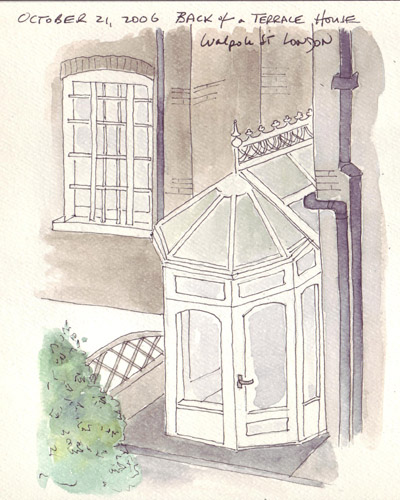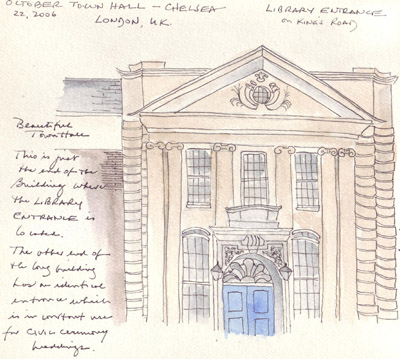 My daughter and her family are living in Chelsea, right off King's Road, so I have many opportunities to walk in the neighborhood with strollers and my grandchildren.
The sketch on the left is the back of one of the terrace houses on Walpole Street. As you look down the row of houses, it is interesting to see how each owner has added space in a variety of ways around their back entry. This sunroom addition has a wonderful round table that is bathed in sunlight and surrounded by flowers.
The sketch on the right is the Library entrance to the Chelsea Town Hall. The other end of the long building is identical and there are civil ceremony weddings occurring there almost everytime that I walk past.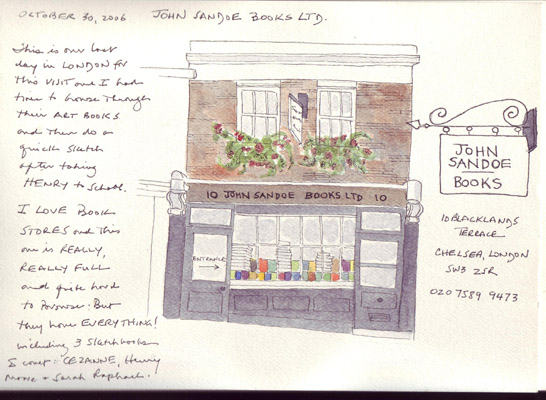 Left: John Sandoe Books - a wonderful, packed book store that is purported to have everything. During my last two visits, I have lovingly looked at Cezanne's Basel Travel Sketchbook and Henry Moore's Sheep sketchbook in the store. It is hard to buy anything in London, however, that is available in the US because the exchange rate is currently so bad.
Right: A regular dinner spot for our family - The Big Easy on King's Road Chelsea. They have an American menu which is perfect for our toddler grandchildren. I loved the fisherman/fish sign the first time I saw it in July, and finally had time to arrive at the restaurant early and sketch it.