EDM Challenge #130: Draw School Supplies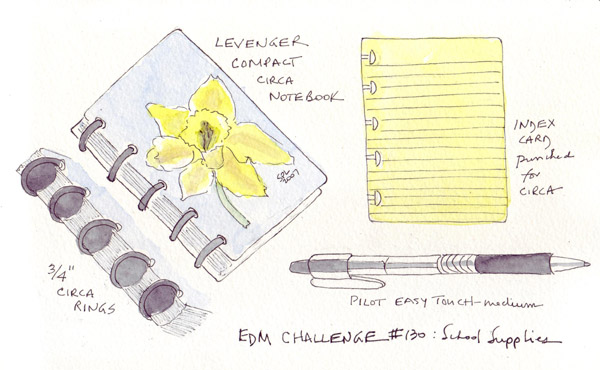 I love books, journals, paper, and almost anything sold in stationary stores - so buying school supplies was always a thrill. Now my purchases are year round, not just in September, and I love it when we start a new project at work and need to look through catalogues for new supplies.
At home I'm currently obsessed with the Levenger catalogue and new items for their "circa" notebooks. Although I have some in all 3 sizes, and even a leather cover for my junior size notebook, I carry the compact notebook that contains index cards in my purse and use it all day long. I have a punch that makes those great holes along the edge of the card (two pages can be cut from each 5 X 8" index card) and then the tabs wrap around the black circle discs. Pages are really easy to add or remove - which is the beauty of the system. The cover of this compact notebook is translucent plastic and I painted a daffodil on watercolor paper which shows through. The pen that I use for everything is a medium Pilot Easy Touch - I don't have the obsession that many people have for fountain pens!