London Visit Part 19: Miscellaneous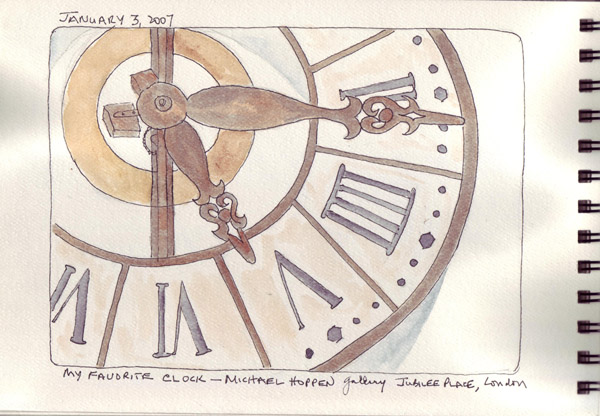 We are now home from our Holiday visit to London and I have two more journal pages to upload - completing my second London Travel Journal. This is a portion of a clock at Michael Hoppen Photography on Jubilee Place in Chelsea. I visit the gallery each trip to see their new exhibits and always take more photos of the clock. However, I never could really see the hands of the clock because they were overlapped at 3:15. During this visit Michael Hoppen himself got a yardstick and leaned over the open stairwell to change the time so I could sketch the clock hands.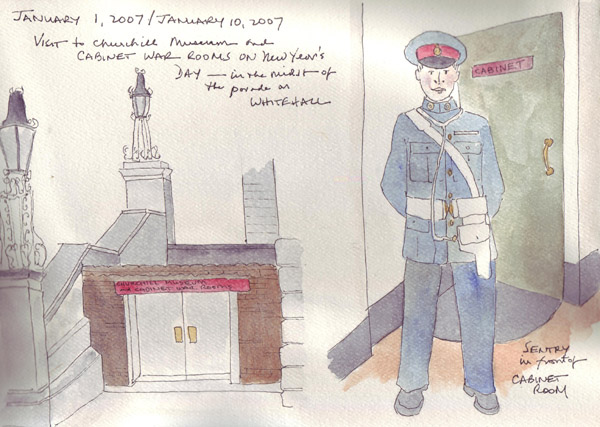 On New Year's Day we wandered through the crowds assembling for the parade on Whitehall in Westminster and went to visit the War Cabinet Rooms and the new Churchill Museum. I sketched this on the last page of my journal after we came back to New York from photos that I took of the entrance and of the sentry (mannequin) who is quarding the War Cabinet Room. The scans could be better, but it was difficult getting the final 2 pages of the journal to stay flat.
I wasn't sure that I was going to enjoy the Cachet Linen Watercolor Journal, but I now have completed two. I am able to paint on both sides of each page so I have approximately 50 pages in each book. When my daughter told us they were moving to London for one year, I had no idea that I would be able to maintain a travel sketchbook and have so much fun doing it. I love looking back through the pages and remembering each day of our visit. Some of the pages reflect activities in the lives of my grandchildren and each of them spends time looking through the journal for their favorite page - Pooh bath toys for Sydney and 5 cars from the Disney movie CARS for Henry in this volume.
We have 2 more visits planned before they come back to New York, so I think that I'm hoping to finish a 3rd journal. I'm so glad that I ordered multiple copies because I haven't seen these in any art store and only on one website.