Observations of a Sweet Gum tree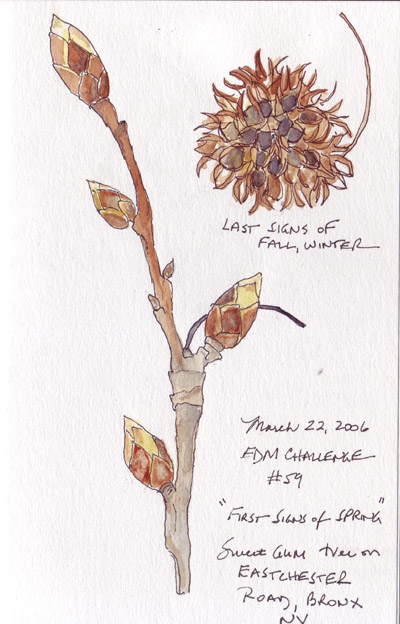 I found a few buds on a sweet gum tree for EDM Challenge #59 and then fell in love with that particular tree! My first sketch was done on March 22nd and the buds were only 3/4 inches long.
I walk past a row of these trees when I leave work and each day watched for changes in those very tiny buds. I have painted two more sketches of the tree and now want to post all of these entries together. By April 17th, the tip of the original bud had grown to approximately two inches and several very small leaves and one very tiny seed ball had appeared. By April 26th, the leaves and seedball were slightly larger and the bud was now a fully formed flower. On May 3rd (no sketch), all of the flowers were lying on the ground below the tree and both the leaves and seedballs were growing daily.
I love the brown, dried seed balls that fall from these trees during the fall and winter and look forward to watching what happens to the baby seedballs on my tree over the next few months. Several leaves from these trees were collected in the Fall of 2004 as patterns for my autumn-theme, quilted, silk wedding chuppah (#3) which can be seen in the "threads" category on this Blog (http://www.paperandthreads.com/2006/01/post.php).
Thanks Karen and the EDM group for Challenge #59 because I'm not sure that I would ever have watched a tree with such passion!