Paris Sketchbook Pages: Part 1
I carried my Paris Sketchbook with me everyday, and almost always sketched something while we were visiting a museum and in a restaurant. When it is just my husband and I traveling, we periodically stop for 45 minutes and he does a New York Times Crossword Puzzle while I sketch a scene I want to remember. We were traveling with friends this time and walking outdoors instead of sitting - so almost all of my drawings were done indoors during this visit. By posting them a few at a time, I'm painting my ink sketches from Paris while also finishing sketches from New York City.
Memorial to SHOAH: This is an amazing museum, located in the Marais, and detailing both the fate of French Jews during WWII and the details of the French Resistance. I was intrigued by this illustration which showed the round white and black badge (worn on the dress) that Jews had to wear in France in 1218. On the right is the Yellow Star which the Nazis made Jews wear during WWII. 40,000 of these stars were made in France by Chas Wauters et fils in the Occupied Zone.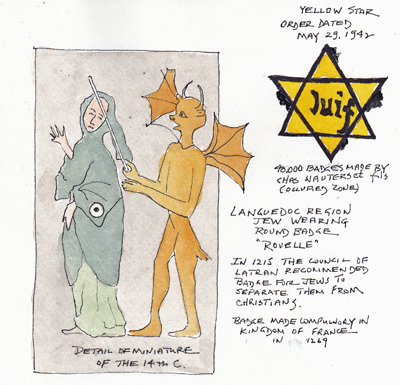 Dinner at the Brasserie de L'Ile St Louis that evening. This artist character was painted on the window next to my seat as a decoration for the restaurant.