The Pfizer BioNTech SARS-CoV-2 Vaccine Receives an EUA
On Dec 10th the Vaccine and Related Biologic Products scientific Advisory Committee (VRBPAC) met virtually with the FDA Vaccine Group for 7 presentations and Q and A sessions. Many FDA scientists analyzed hundreds of pages of data about the Pfizer BioNTech vaccine since Pfizer applied for an EUA in early November. Their review was then summarized in a 53 page document which is available on the FDA site. An Emergency Use Authorization (EUA) can be granted if there is a public health catastrophe and there is no licensed treatment. There were more than 43,000 clinical subjects in the Pfizer Clinical Trial, half were vaccinated and half received saline placebo. The efficacy of the vaccine was 95% in both sexes, all ages, and racial/ethnic groups, and it appears as if an immune response appeared as early as day 12 after the first dose. The major safety issues occur in the first 1-2 days after the vaccine injection and include flu-like symptoms that are mild to moderate. Four vaccinated volunteers developed a Bell's palsy, but it is unclear that this is a higher incidence than in the general population. When study subjects have been followed for 6 months, the EUA could be converted to a Biologic License Approval based on reassessment of the data.
It is very comforting to see how many academic scientists have analyzed all of the data - both the advisory committee members and as career scientists at the FDA. There are still limitations fo this vaccine - pregnant women and children younger than 16 have not been included in the clinical trials and now need to be tested separately. Read Below.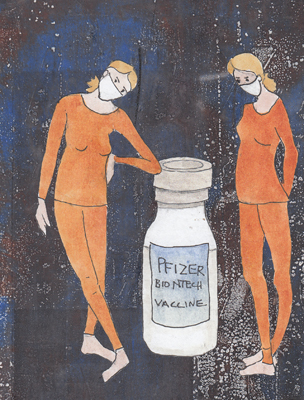 Two nurses had an acute allergic reaction on the first day of the vaccinations in the UK. Both had a history of severe allergies and carried an EpiPen. These reactions could be due to allergies to food, drugs, or vaccines and Pfizer is collecting as much information about them as possible. It is comforting to know that severe food allergies, like peanuts and eggs, did not disqualify people from being part of the clinical trial and no allergic reactions were seen. For now, they are recommending that anyone with severe allergies delay their injections until all of the information is assessed. Both women were treated and recovered completely - at least one of them with epi-pen and steroids, but not disclosed for the other one.