Paris Musee Picasso
I really like Picasso, especially his non-cubist drawings, paintings, ceramics etc. We missed the reopening of the Picasso Museum 5 years ago, and I was very interested in seeing the renovated space and collection. The building is gorgeous, and they maintained the entry and grand staircase. The galleries seem bigger. But I quickly realized that I see so much of Picasso's art in NYC, especially at the twice yearly Impressionist and Modern Auctions, that the museum was a little disappointing. Half of the 4 floors were devoted to a large series of "magical portraits," which was more cubist than representational. I read that there are 5000 pieces in the museum collection and only 10-15% are on view at any one time.
http://www.museepicassoparis.fr/en/the-collection/
But on one of the upper floors they have a movie with Picasso doing line sketches with paint from behind a sheet of glass - and I've always loved seeing his movie.
These are a few of the drawings I did as we went through the exhibits. The Owl was a large ceramic sculpture - probably close to owl size. The sleeping girl was one of a series of small, fast drawings in pencil. on a single sheet And the other sketchbook page of scribbles were culled from a small series of his artworks.
Picasso Owl and Girl Sleeping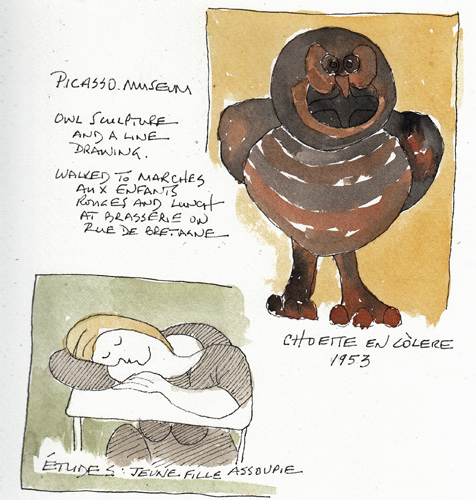 More Little Scribbles