Drawing Practice
Although my sketchbook is in part a visual journal of my daily life, it is also the place that I practice drawing and painting. This year, one of my goals was to practice figures and especially faces, and I found that I could instantly make a toddler look like a teenage as soon as I sketched in a face. Yuck! I couldn't stand the page I did Friday so I tried again in pencil the following morning. So this shows my "old" child's face and a slightly more youthful child face in pencil along side.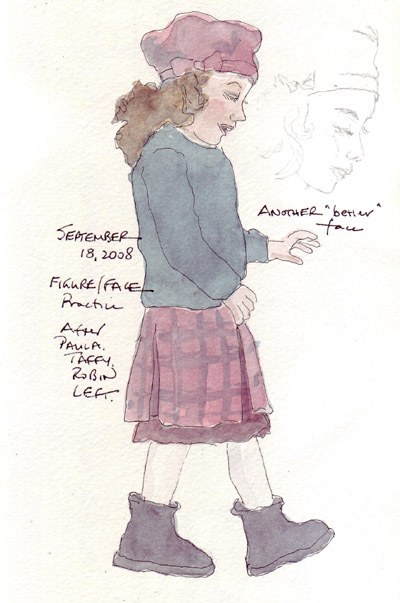 Yesterday I went to the preview of the new Van Gogh exhibit at the Museum of Modern Art (Van Gogh and the Colors of the Night). I like to draw from the Masters, and like to do at least one sketch at art exhibits, Yesterday I chose an 1878 shaded pencil drawing that was in a glass case. It is such an early drawing of Van Gogh's that it isn't even included in the huge VanGogh gallery of drawings on the web.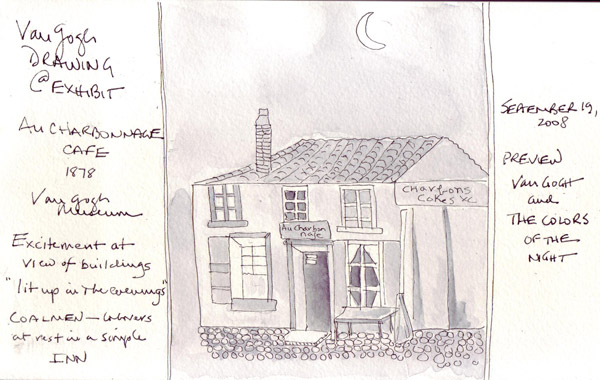 He shaded in pencil, but I used gray watercolor to try to achieve the same tones. In a note included with the drawing, Van Gogh said that he loved buildings lit from within during the evenings when workers were at rest. I also love to walk by homes lit from within during the evening hours - canal houses in Amsterdam and brownstones here in New York City - so this drawing really resonated with me.