Some Animal Drawings
I am very busy in Oct, Nov, and Dec - anticipating all of the Christmas sewing and quilting that needs to be done. So like Santa, I put out a call for reindeer help.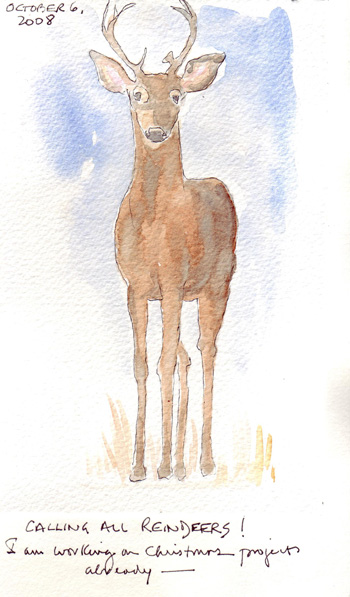 My son Jason had a pet iguana during college and most of medical school. We all grew to love Pablo as long as he was safely looking at us from his fabulous terrarium that was built by my son. This photo was an excellent inspiration and challenge for me - especially drawing a figure with a face!
My husband and I worked as volunteers all Saturday morning sorting books for the upcoming Goddard Riverside Book Fair and then spent the afternoon watching our grandchildren enjoy the Halloween Fun Fair that my daughter organized as a fund raising event for their nursery school. After carving a pumpkin with my grandchildren at dinnertime, we came home and collapsed. I almost didn't do a journal page for Saturday - and then picked up my sketchbook, a washable graphite pencil, and a photo of Lin's kittens and did a very loose sketch in the few minutes before bed. I try to sketch daily and rarely, if ever, will give in to being too tired or too busy. But some days, a 5 minute sketch like this seems like a huge accomplishment.