EDM Challenge #105: Draw Scissors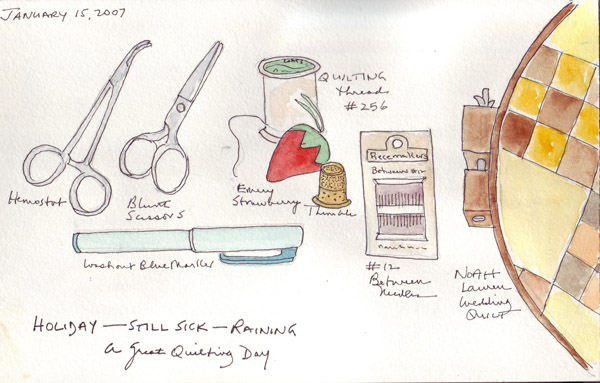 Several weeks ago I sketched my quilting supplies and a quilt that I was working on while too sick to be more active. In this sketch I included my cute little blunt-nose Gingher scissors. When air travel restrictions were relaxed and these scissors were allowed on airplanes in the US, I was horrified to lose a pair while passing through security at DeGaulle Airport in Paris. The gendarme didn't say a word, he just reached over and dropped them into a plexiglass box full of confiscated items. Strange that nothing was said on the prior trip through DeGaulle in the other direction.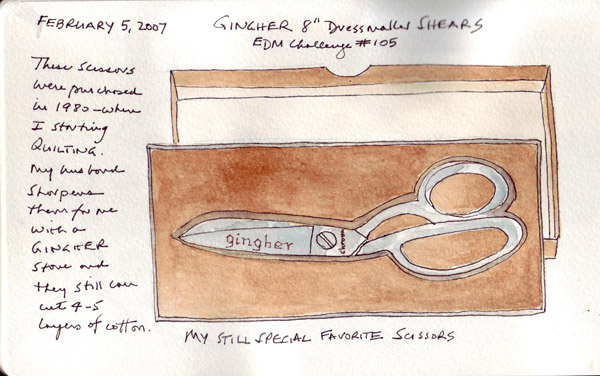 These are the scissors that I drew for the EDM Challenge - 26 years old and still perfect. I first learned about Gingher scissors when I started quilting and now have the above 8" shears, 2 pair of small embroidery scissors, 1 pair of the craft scissors, 1 pair of pinking shears, 1 pair of applique scissors (which I don't use), one pair of clippers, and 2 pairs of the blunt-nosed scissors sketched above. It took awhile to convince my family that all of these were fabric-only scissors, but they have all survived and perfomed quite well. I think this qualifies as a Gingher collection!