London Visits: Part 21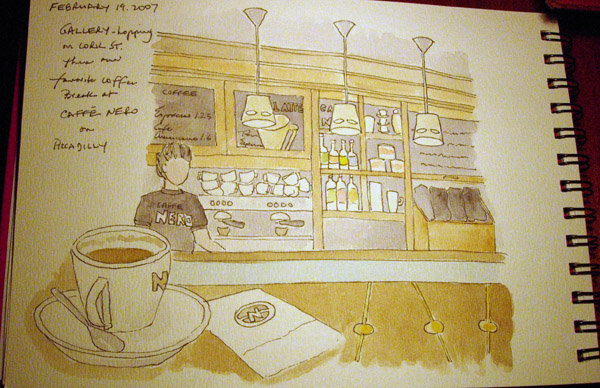 My husband and I went "gallery hopping" for several hours on Cork Street - primarily because the Helly Nahmad Gallery had 20 Picasso paintings from "La Californie" in an exhibit. We found several other wonderful exhibits and then stopped at our favorite coffee bar - Caffe Nero on Piccadilly. I thought that it was finally time to sketch the counter area for my travel sketchbook.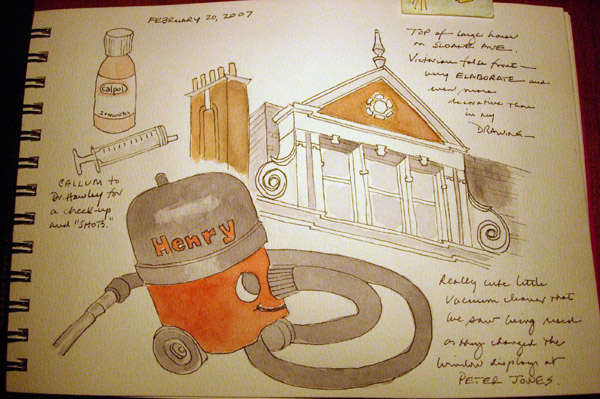 Rachel and I took Callum for his first immunizations and when walking back along Sloane Street saw this interesting roof top (4 tops like this along the front of the building) and a cute little vacuum called Henry which was being used while changing a window display at Peter Jones Department Store on Sloane Square. I'm glad that I took a photo because it was gone by the time we took our Henry to see it.
This is a photo of the building showing the elaborate fronts that are part of the otherwise plain rooflines on these beautiful Victorian buildings.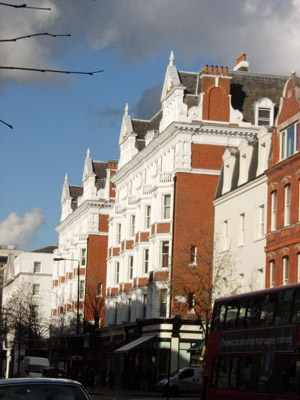 We went early one morning this week to see the Hogarth exhibit at Tate Britain. It was crowded, but later there were long lines and even bigger crowds. I liked his engravings best and copied a few of the faces from one of my favorites - entitled "Characters and Caricatures."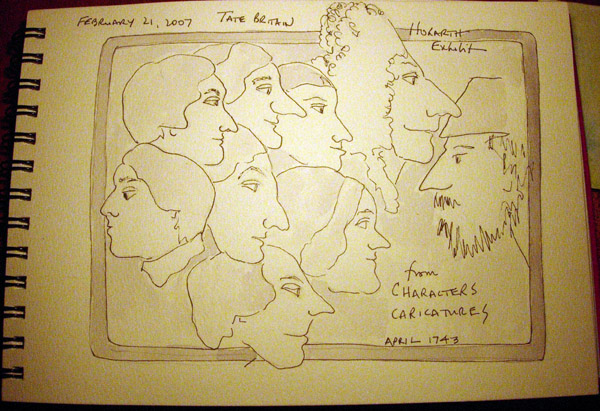 Yesterday was drizzly and we decided it was the perfect day to go to the National Gallery to see their exhibit "Manet to Picasso." It is a nice small exhibit - with many impressionist paintings on loan from the Tate and private collections. There is only one early Picasso. Since I am constantly trying to improve my skills drawing figures, I sketched this painting of Carlo Pelligrini (labeled Carol Pelligrini on the postcard I bought) by Degas.