EDM Challenge #204 and Some Figure Drawing Practice
We have had minimal snow in New York City since this challenge was posted, so I went back to photos from a February 2005 trip to Paris. It was the first time we were in Paris in the snow and it was a beautiful site. This drawing was made from a photo that I took from the window of an apartment that we rented on Quai de l'Horloge early in the morning.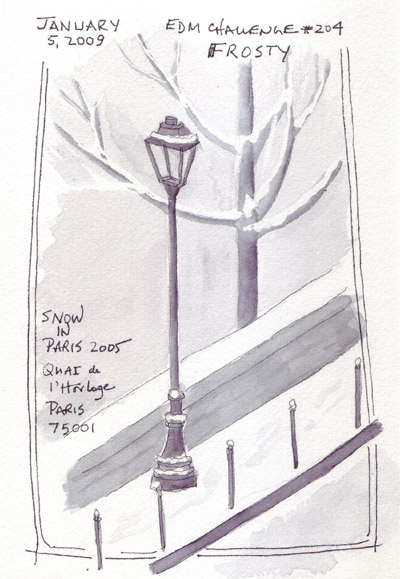 One of my 2009 Art Goals was to finish the pages in my 2nd Figure Drawing Practice watercolor journal. I periodically sketch figures, faces, and hands from photos to obtain some fluency drawing the human body and experimenting with a variety of tools. I'm finally willing to put faces on my full figure drawings - a major accomplishment of 2008! Here are two figures that I sketched from photos during this wonderfully relaxing New Year's holiday weekend. The rest of the time I've been reading, quilting, and binding 2 new watercolor journals for the New Year.