Miscellaneous Watercolor Journal Pages
I sometimes feel as if I have sketched everything in this apartment at one time or another. After a full day at work, when too tired to look further, I sketched a few items from the drawer that I use, right next to my end of the couch in our library.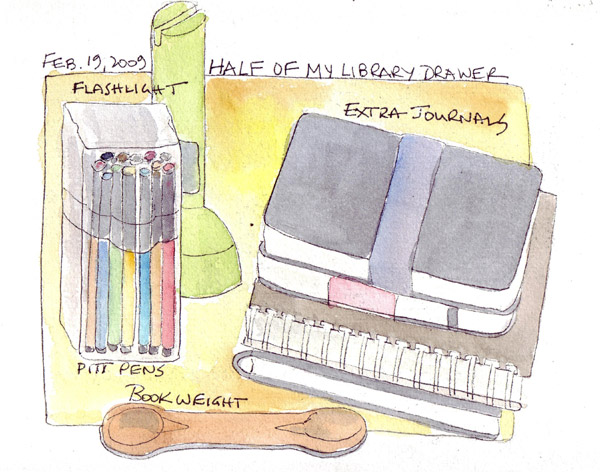 My daughter bought an amazing light fixture for her children's playroom several years ago and it is a constant challenge for me to draw one of the objects suspended from the structure. I was with two of my grandchildren last week when I decided to try to sketch the biplane yet another time. I am looking up at the plane and can never convince myself that I can tell which wing is on top and which is on the bottom.
We had a full day of family activities last Saturday. In the morning we had a brunch to celebrate our youngest grandchild's first birthday - several weeks early because none of us would be in DC on her actual birthday. In the evening, my husband and I and our 3 children and their spousese took my mother out for dinner in Manhattan for her 90th birthday. In the afternoon, while the youngest children took naps, 4 year old Sydney spent two hours on an art project and while she was busy painting and decorating little jewelry boxes, I sketched her supplies.
She had glitter glue (the tube on the far left) and used her finger to add it to my journal page. All of those dirty little dots are really sparkling!
I'm constantly torn between practicing some art skills and keeping a visual journal. So far I've divided my daily sketchbook pages between the two, but it is a constant mental struggle.