Every Day in May: May 10th
I am currently working my way through 2 art workbooks, one on watercolor skills and one on figure drawing. Both authors are currently exploring "light and shade" in the lessons. For my journal page(s) on May 10th, I moved my basic shapes around and redrew them. Then I put in the hard shadows using watercolor pencils. Finally I looked at the shapes to add the shading and was horrified to notice that I didn't really have a light and dark side that corresponded to the shadows. I have two overhead track lights and two wall lights above my desk in my studio which really confused the lighting. And I decided not to use the strong sidelighting that I used the first time I sketched these shapes because I needed to turn all of the other lights off and then couldn't see my sketch journal well enough to draw. So I added some of the subtle shading that I saw, but it really doesn't correspond well with the true, actual hard shadows. I will rearrange these shapes again one more time and use watercolor paints - not pencils.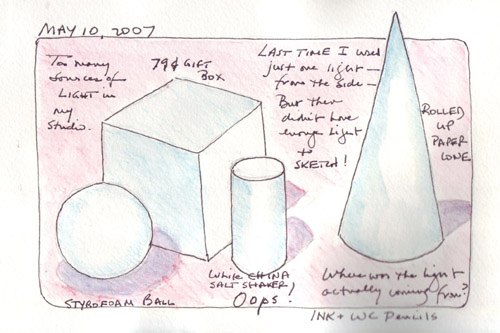 I sketched a figure from my figure drawing book and then added watercolor to shade the figure. I'm still having problems with proportions This is the rough WC paper that I added to my Michaelangelo Sonnet recycled book (along with several other types) and I hate it. It is hard to use a pen on it and worse than that, it scans really poorly!