Two Exercises for Daily Drawings:
I did several "play" exercises before I left last week for the Quilt Festival.
Prepainting a Page Background: Roz http://rozwoundup.typepad.com/roz_wound_up/ recommends prepainting the background on some pages in your sketchbook and then just drawing and painting over it. I prepainted every other double-page spread in my first sketchbook (2003) based on exercises derived from the Gwen Diehn book The Decorated Page, but have not done it since. My daughter found a new leather pencil case for me and I wanted to draw it with one of each category of tool I carry in it. To make the background more interesting, I decided to prepaint it, let it dry, and then proceed with my drawing.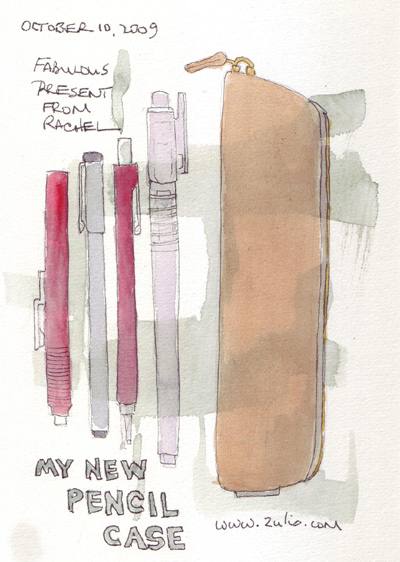 Anatomy for Action Figure Drawing: Angela Gair and Anthony Colbert, in their book The Sketchbook Kit, recommend that you "amuse yourself by drawing little sketches that show how the skeleton moves, in order to understand how the joints operate." I love this concept and finally tried drawing their little skeletons, just in time for Halloween.