Selected Journal Pages from the Last Week
I was in San Francisco for several days at a meeting and wanted to upload select recent journal pages from the last week.
This passenger, in the departure lounge with me at JFK, worked on her laptop right up until boarding.
I took an early morning walk from the Moscone Convention Center area to Union Square and then Chinatown. It was beautiful sitting in the sun sketching the lamp post tops at the intersection of Grant and Pine while watching the area wake up.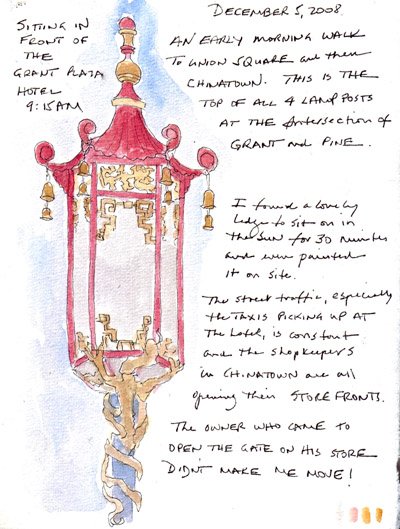 Friday afternoon I met Jana and Martha (fellow EDM members) and we talked and simultaneously sketched St. Patricks church on Mission Street and then warmed up and exchanged our sketch books over a glass of wine in The View Lounge on the 39th floor of the Marriott. Jana already posted a photo of us, our sketchbook pages, and the lovely view we enjoyed.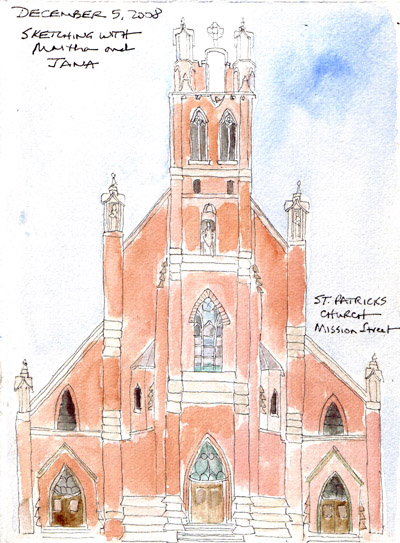 During my meeting I sketched my neighbors across the aisle or in the lounge, trying to remain inconspicuous and to pay attention to the lectures.
I was afraid that I wouldn't have time to do my homework for Danny Gregory's Illustrated Journaling class while I was gone, but I did get one exercise done - drawing through a doorway. This was the bathroom from the hotel room entrance of my room at the Marriott.
In order to get back to New York City for our 5th class, I took the "red eye" home from San Francisco. At class the next evening, Danny brought fruit so we could create a journal page documenting "a transformation" while we were eating our piece of fruit. He really wanted us to mix our drawings with words that reflected the experience on the journal page. This was a fun exercise - and similar to many apple eating pages in Danny's journals.