Every Day in May -13: My Homes Series - #3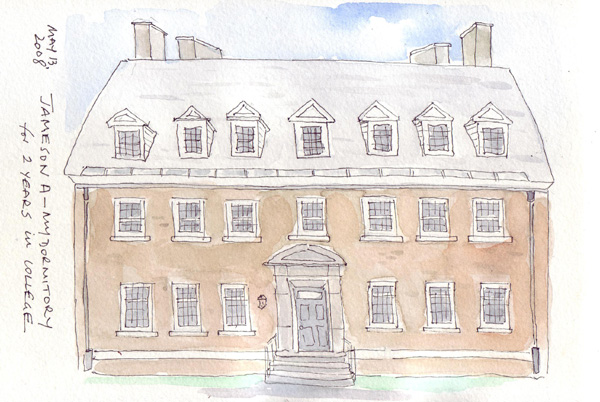 I moved from my second childhood home to a college dormitory. This is the 3rd in my "My Homes" series. I lived in this specific dormitory for two years, an adjacent identical dorm in the same quad for one year, and then up on the hill in a modern dorm for my 4th year. We had to live in the dorms or at home and had very stringent curfews. No boys were allowed beyond the living room. When my children went to college both sexes shared bathrooms and had rooms on the same floor - quite a change.
I drew the bottom of the dormitory facade before I realized that I didn't leave any room for hedges - or the tree - and my transparent watercolors couldn't possibly fix my error. Only the first floor had an interesting floor plan and I lived on the second and then third floors, so I stopped here.