A Productive Day at the Museum of Natural History in NYC
The Meet-Up Central Park Drawing Group met at the Museum of Natural History yesterday. During our regular sessions we meet at the entrance, draw in a general region for approximately 30 minutes and then return to a central location to share our sketchbooks. We then move to a new location and repeat the process again and again for almost 3 hours.
Yesterday we began in the African Mammal exhibits - on the balcony - and I was capitvated by the ostrich and babies. I also did a quick sketch of a baboon (paint added today).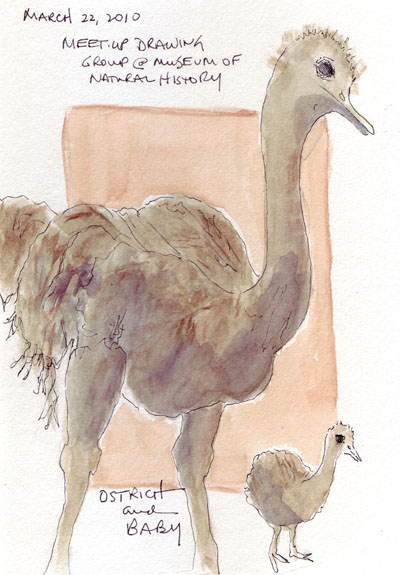 We then moved to the North American birds section (I'm not a bird lover) and I sketched a golden eagle.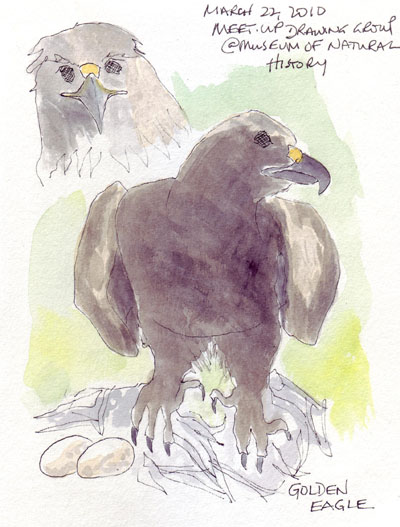 Around the corner was the primate section and the chimp had such a wonderful hand pose, I had to sketch him.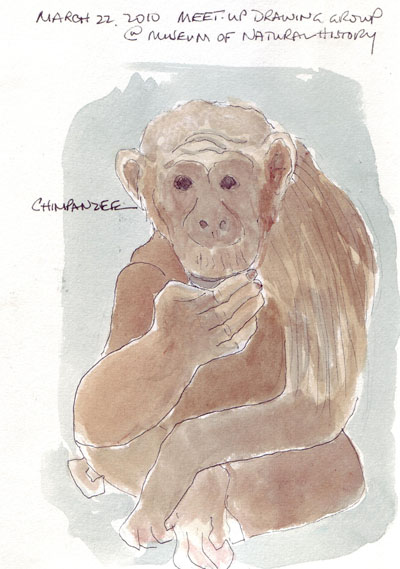 Finally we went to the 4th floor to the dinosaur skeletons and I sketched the head of T.Rex. The sketch was done in pencil and then I practiced using the dreaded Pentel Pocket Brush Pen and a watercolor pencil to finish the painting.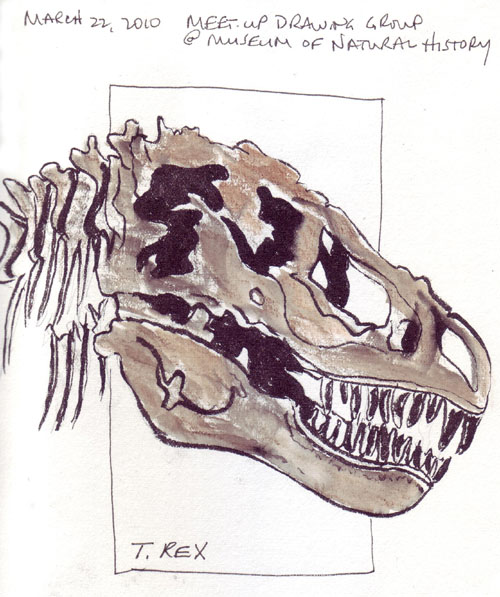 Patti Gregory (1960-2010)
Yesterday morning I learned of the tragic death of Danny Gregory's wife Patti. I only met Patti once 4 years ago, but was really impressed with her smile and energy. Danny is the author of Everyday Matters, a book of sketches and writing from the time following Patti's subway accident which left her paraplegic. I was just beginning this journey, which I call sketchbook art, and joined his Everyday Matters online art group in September 2005. Over the last few years, by following Danny's blog, reading his subsequent books, The Creative License and An Illustrated Life, and taking a "visual journaling class" with him here in NYC, I learned more about them and their son Jack Tea. My heart is breaking for Danny and Jack.