Beach Vacation Sketchbook
We spent almost one week with our daughter and grandchildren at a summer rental in the Hamptons and I was able to complete my recycled book that I dedicated to summer vacation travel. Selected pages will be uploaded over the next few days.
I loved the "Creative Matrix" idea in Dory Kanter's book Art Escapes and then decided to try it when Martha of Trumpetvine Travel posted hers as a calendar from her recent vacation in the woods. Here is the first page of mine.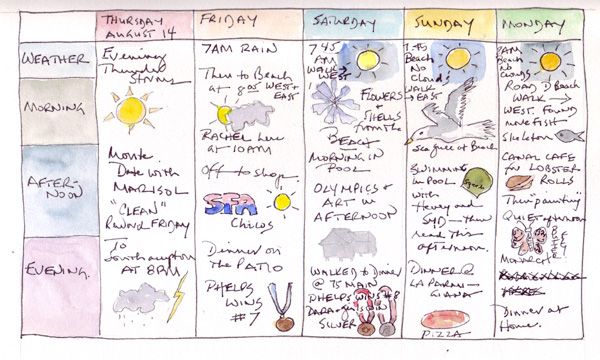 The house lawns were mowed the first afternoon we arrived, and I was shocked to see fully formed mushrooms, that were twice as tall as the grass, appear the very next day. They were very delicate and disappeared completely by the following day. I'd love to know the type of mushroom - research must be done.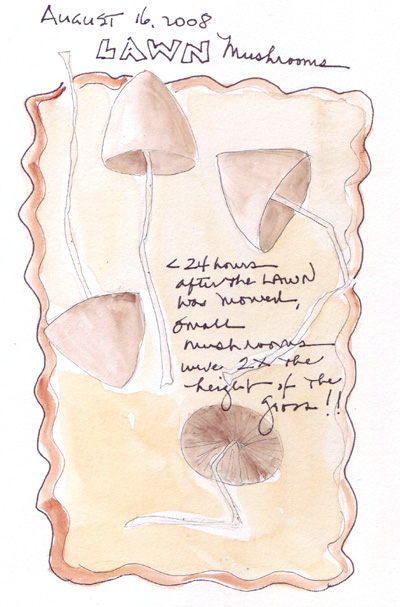 My husband and I walked two miles on the beach early each morning and collected shells and other "treasures." The road to the beach is on a narrow strip of land between the bay and the ocean and I loved a deserted, weathered, wood shell of a house that was up on stilts at the edge of the bay. It was possible to look right through the windows and doors that were not boarded up.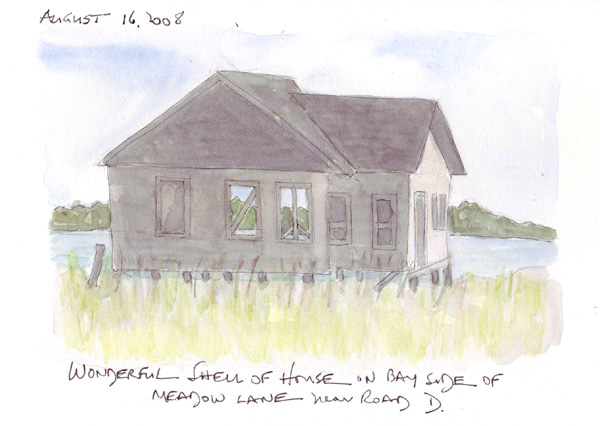 We occasionally met someone on the beach walking their dogs, but except for them we shared the beach with the seagulls. I read that there are 80 varieties of gulls and wondered about the three patterns of coloration of the gulls we saw. Here is one of the gulls and the shadow that he cast on the sand in the bright sunlight.