Figure Drawing Practice
Learning more about drawing figures and faces is still a primary goal for me in 2009. One of the members of Everyday Matters (EDM), the online art group that I belong to, posted links to out of print figure drawing books by Andrew Loomis and I'm working my way through the first chapter of Figure Drawing For All Its Worth.
Here are journal pages that I did of ideal male proportions - trying to embed these landmarks in my brain. The anatomical drawing is a piece of an end paper in this book I recycled. My angst re: gaps between signatures using 140lb watercolor paper can be seen here.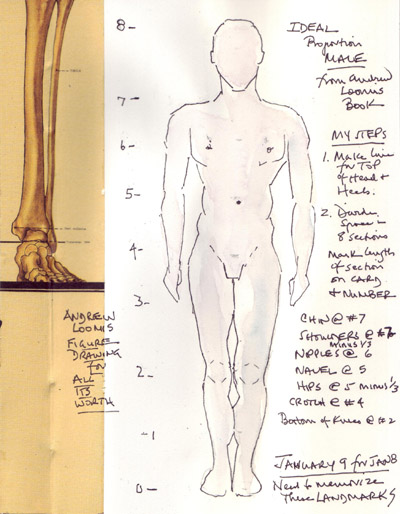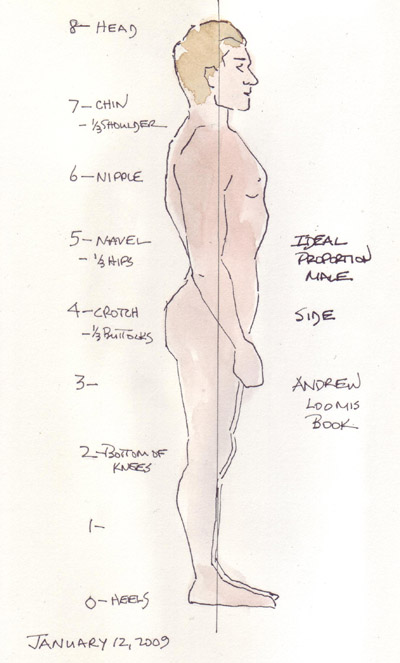 I love drawing and painting ballet dancers - all from photos because I'm still not able to sketch moving bodies. This was drawn from a photo in the NY Times last week. Obviously, I shouldn't have tried adding facial features in this tiny little face - but I'm posting the disappointments as well as the pages that please me. The drawing inspired us to get Ny City Ballet tickets for February, to brighten an otherwise cold, dreary winter.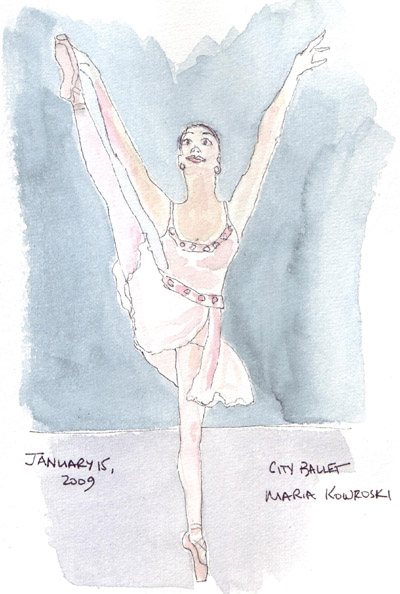 I still had to do a daily journal page the other evening, and this painting, on a postcard from a local Manhattan gallery, was sitting right next to me. I love trying to learn from other artists by copying their lines and painting styles - oil to watercolor conversions. I didn't know anything about Jean-Pierre Cassigneul, but subsequently learned that he was born in 1935 and is a well known French artist - with a painting in the upcoming Christie's Impressionist and Modern Auction. Here is my fast copy of his beautiful oil painting.