Carla Sonheim Drawing Labs
Lab 16 in Carla Sonheim's Drawing Lab book is to draw !00 Faces. I cut 20 pieces of watercolor paper and packaged them with a pencil, eraser, pen, and 7 watercolor pencils - and now keep it with me when I leave the apartment. Here are 4 sketches done on the uptown-downtown buses. I haven't drawn strangers from such close proximity before and it was fun. These are clearly faces, not portraits!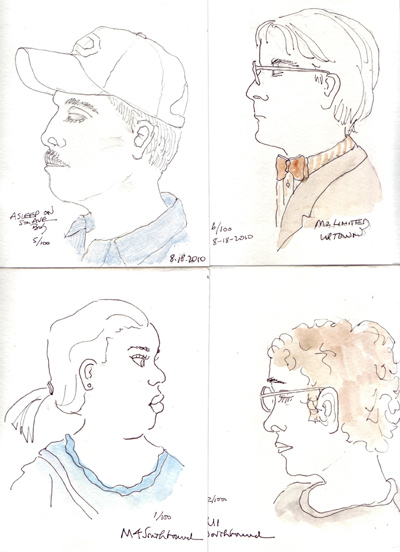 I'm interested to see the way these 100 face drawings will evolve. The only rule I have is to carry my pouch with me when I leave the apartment and to number them sequentially as Sonheim suggests.
I am currently finished with Lab 26 in the book and ready to move on. Here is my One-Eyed Monster. I used a sheet of paper, quickly drew 3 monsters, and then selected one to redraw in my watercolor sketchbook. Since I started drawing again in 2003, then daily in 2006, I have drawn from models-objects-scenes of some kind - including photos and paintings and drawings from Master Artists. This is the first time that I am exercising my imagination completely and it is great fun and as I've said before, a wonderful way to loosen up,