More Strathmore Visual Journal Samples
I felt like playing yesterday and worked on 4 Strathmore Visual Journals simultaneously.
I colored each page with 3 different Neocolor II watercolor crayons and then wet them, mixing the colors even more. After they dried completely, I used my pregnant model fun foam stamps and random other images on each page using pigment inks (Staz-On). The pages still needed something more, so I added tracing paper collages of some of my drawings - adding them with a Uhu glue stick and then coloring the edges of the tracing paper with more crayons.
When my friend Melly saw them today, she asked if I was making the 4 Seasons? It was not my intention, but here they are as "seasons."
Winter - 90 lb watercolor paper: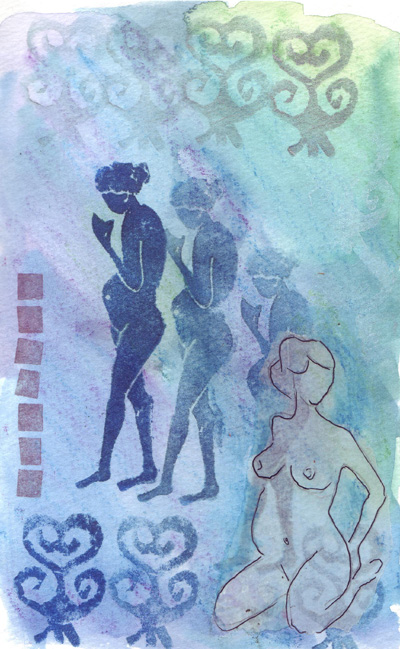 Spring - 140 lb watercolor paper: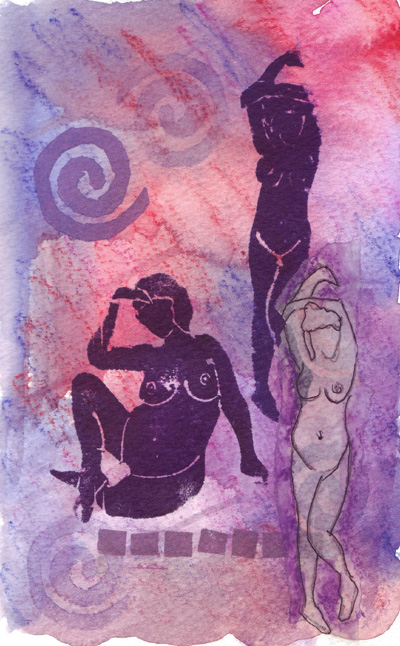 Summer - 90 lb mixed media paper: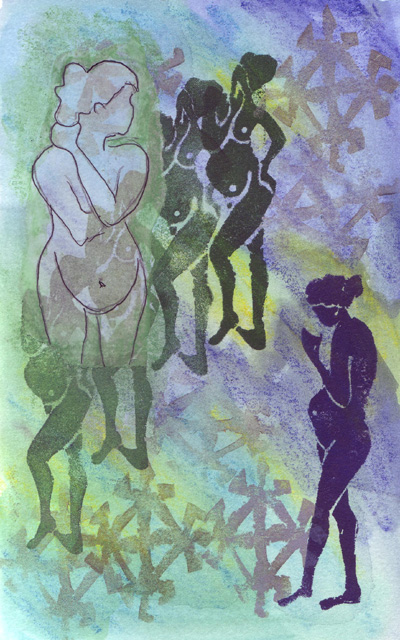 Fall - 100lb Bristol vellum paper: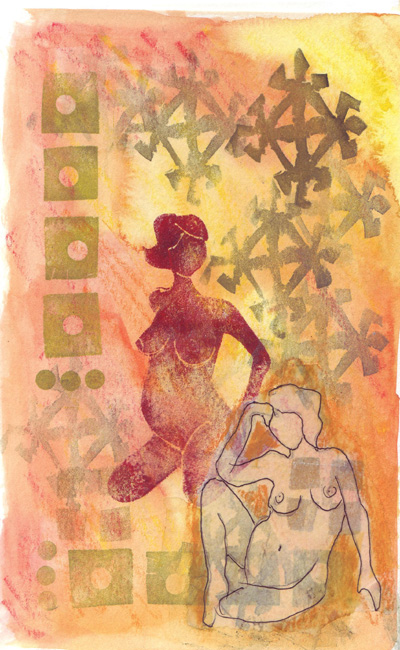 Comparisons: All of the papers handled identically with the watercolor crayons, stamps, and collage. And as I previously noted, all of the pages curled slightly, but flattened out when the book was reclosed. This happened even with the 140 lb watercolor page (my new journal), although it was the least.
Mixed Media - 100 lb paper: I can see a faint image of the stamps on the back of the page, but the ink didn't leak through at all. I wouldn't use the back of this page in my sketchbook.
Watercolor - 90: There are random faint images that show through the page, meaning I'd be less likely to use the back of this page
Watercolor 140lb and Bristol Vellum had no shadows.
I like working on these journals, partly because I think of them as places to play. My regular hand bound, cased-in watercolor journals with 140lb paper seem more permanent and therefore less likely to be used for 4 simultaneous pages. You can see other entries on these new Strathmore visual journals by clicking on the Strathmore Visual Journal category on the right side bar, below the Archives.