More Baby Zachary Sketches
I took a few photos when we visited Zachary in the hospital and used them as references for these paintings. It will be fun to see when my figure sketching skills have improved to the point where I can sketch him better. So far I sketch my grandchildren from the back because I can't capture their facial features.
Zachary's Baby Quilt: My daughter-in-law brought me nursery crib linens when she finally found some that she liked. We decided that I would use a star pattern, like I did for Zach's big brother Robbie's baby quilt. Robbie's quilt was yellow and blue with an all over star pattern.
I selected fabrics from my collection, including 3 fabrics that were in his parent's wedding quilt and Robbie's baby quilt. I love the continuity and did the same for my daughter's wedding quilt and baby quilts for her 3 children. This was my journal page for the day when I planned the quilt and started the process.
Racing to the Finish: I needed to speed up the quilting when Zachary arrived one week early, and spent two full days finishing the quilting of the border triangles and attaching the binding. It is hard to speed up the hand quilting process, it just requires marathon quilting sessions for me while watching old movies on TV!
The Finished Quilt: I delivered this quilt to my son and his new son Zachary yesterday and it looks wonderful in the baby nursery! I always feel as if I am wrapping up each and every grandchild in my love - in ways that just add to our bonds.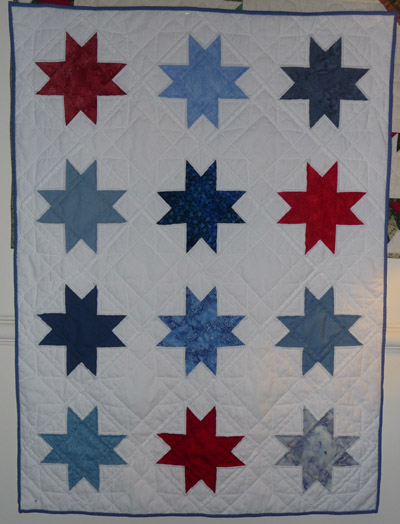 Annabelle and her parents just arrived from Washington, DC to meet her new cousin. She is too young to realize that she is not the family baby any longer!