A Visit to the Morgan Library and Exhibit
Last week my Journal Study Group met Gwyneth Leech at her gallery exhibit entitled "Hypergraphia" and visited the Diary Exhibit at the Morgan Library. Pat already posted some information about our day on her blog.
I love books, notebooks, journals, log books, and diaries and I'm almost embarassed by the number I created over many years. It was a thrill to look at actual diaries from the Morgan collection, especially several that contained sketches and watercolor paintings. The Morgan website has podcasts and readings of many of the diaries.
Illustrated Diary #1: The peasant woman that I painted below was sketched from an anonymous diary entitled "Focus on Fashion: A Lady's Travelogue (1869)." I would love to see some of the other pages to see more fashions and her biting descriptions.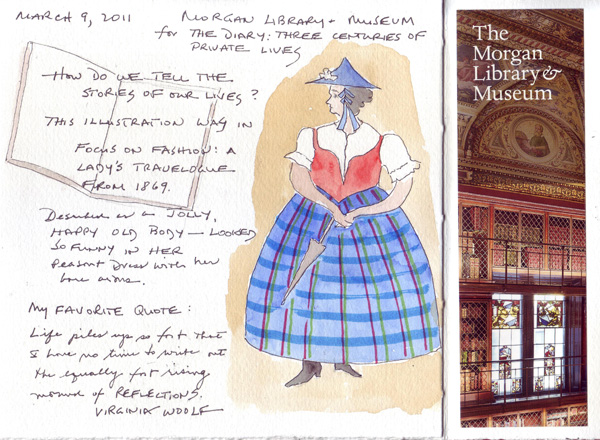 Illustrated Diary #2: My real favorite, however, was one kept by Fanny Tremlow. This photo from her diary was downloaded from this website.
Illustrated memoir by Fanny Twemlow (1881-1989), a British woman in a World War II internment camp in France, 1940-41. Gift of Julia P. Wightman, 2006.
In December 1940, the German army carried out a swooping raid throughout Occupied France aimed at rounding up any woman found in possession of British papers. The subsequent internment of some 4000 women was carried out during one of the coldest winters in living memory. English spinster, Miss Fanny Twemlow, was among those unlucky enough to end up in the infamous camp, Frontstalag 142, on the French-German border. Throughout her captivity, she was determined to secretly make sketches of camp life as well as keep a diary.
FRONTSTALAG 142: The Internment diary of an English Lady, by Katherine Lack will soon be published.