Covid Collage/Info #100: Grandma's Happiness!
You may have already heard that last Friday Pfizer submitted data to amend their EUA to vaccinate 12 to 15 year old children. My happy dance means that 3 more of our grandchildren may be vaccinated and hopefully before they go to camp. My 17 and 16 year old grandchildren were vaccinated already without any problems. Determination of safety, tolerability and immunogenicity of vaccines is usually done systematically like this in younger and younger age groups. This group could take the 2 standard doses of Pfizer vaccine 3 weeks apart, but for younger children reduced doses will also have to be established and tested. There will be 3 more age groups to be tested and Pfizer will also have to submit data from each randomized placebo-controlled trial.
There were 2,260 adolescents enrolled in this study - with or without a prior history of Covid-19. Eighteen (18) cases of Covid-19 were seen in the placebo group vs 0 in the vaccinated group. Neutralizing antibodies were tested and the immune response was even greater than that seen in 16-25 year old volunteers in the previous trial. The vaccine was well tolerated, with side effects generally consistent with those in the 16-25 year old range. All of the participants in the trial will continue to be followed for a full 24 months, like the original Pfizer phase 3 trial. The FDA and then the CDC independent scientific advisory board will hopefully approve the amendment quickly. Then vaccinations can begin. See Below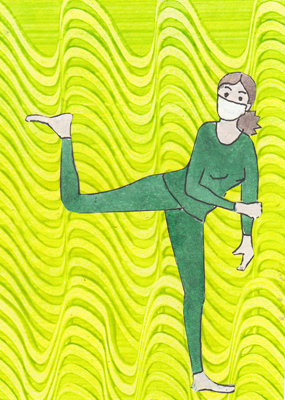 Pfizer also has an ongoing Phase 1/2/3 study in 3 decreasing age groups: Children 5-11 years, 2-5years, and 6 months to 2 years. The 5-11 year old group began dosing last week and the 2-5 year old group will begin one week after that. Moderna is also conducting similar trials. In the last few weeks experts say that herd immunity will not be achieved in the US, and the next wave and clusters of cases will spread quickly in the susceptible groups. With increased variant transmissibility, one susceptible population may now become children. That is frightening to me. This is my 100th collage and Covid-19 discussion since last Spring - and at some point I will have to decide when to return to warm weather outdoor sketching instead.