A Few Watercolor Journal Pages From This Week
This was a busy week. We visited our San Francisco friends at their lake house in NH as we do most summers. And it was hot even in the woods. The dogs were therefore sleepy much of the time and I could sit and sketch them more easily. I just decided that I love square watercolor sketchbooks, but then needed to put both pages together in Photoshop because I couldn't fit the double pages on my scanner!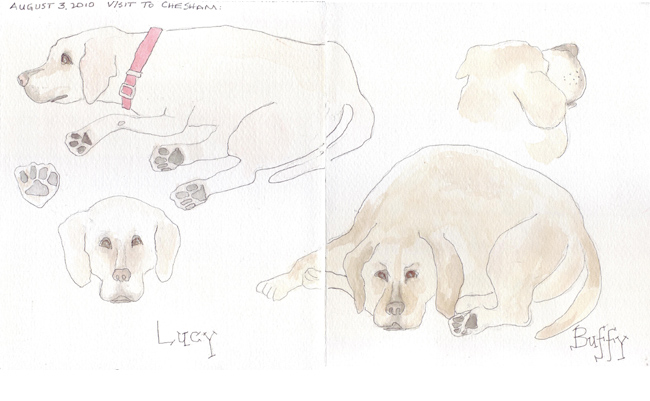 We also stop at the Farm Stand to buy some fresh produce and flowers to take with us. This is one ear of corn before husking and one of many varieties of sunflowers that they grow.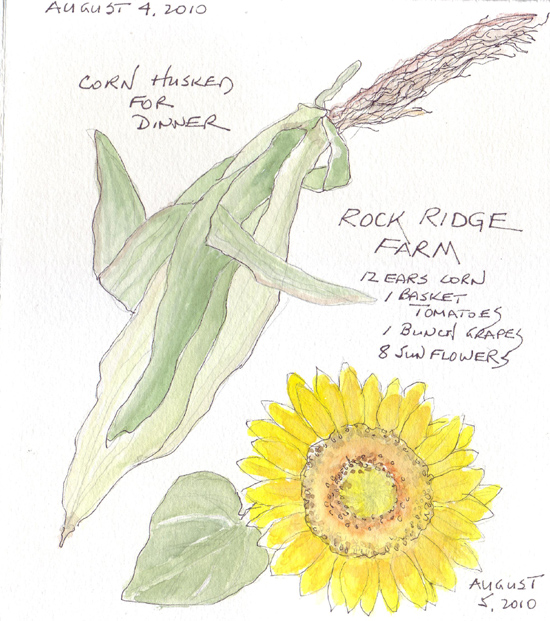 We returned home Thursday and on Friday morning at 8:30 met a fabulous visitor at the corner of 96th St. and Lexington in NYC. Can you guess who? How about if I tell you that today is Borromini's 3rd birthday? In the few minutes while I was waiting, I sketched the flower in one of our many flower stands and painted it after a full day of exploration, talking, sketching, and fun. More later....