Venice Sketchbook - Part 2
At least one sketch per day was done quickly when I had an opportunity to sketch while we were walking around Venice.
On Sunday morning, I accompanied my friend Sara to Mass at Basilica San Marco. It was a great choice, since we had about 45 minutes sitting in one place and could do a pencil sketch of a small part of the beautiful interior. We were unable to sketch all of the time, but I did try to get some sense of the many vaults and some of the decorations. I added pen,watercolor, and gold pen and gouache later.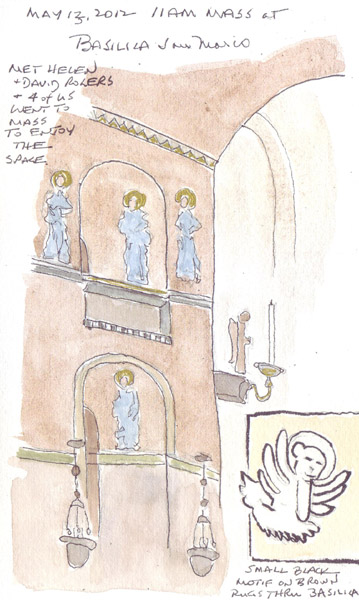 I did a series of very fast sketches, while my husband was checking our email on Venice Direct WiFi (which is available in the major areas of the city). Before we left for Italy, I bought a brown Tombow marker which was perfect for these times. I sketched quickly and then added water to two of the sketches to spread the water soluble ink.
San Giorgio Maggiore from Riva Degli Schiavoni near Giardini Ex-Reali garden. I wish I drew straight columns!:
Another Tombow sketch, several days later, from the same place - but facing La Salute. This time I didn't add water: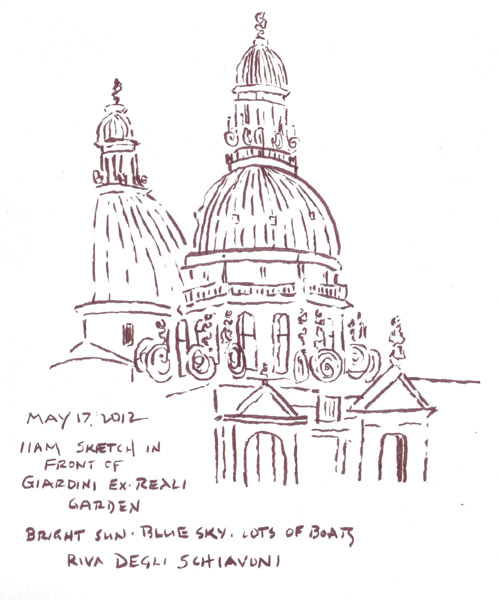 Interesting architecture in Campo Santa Maria Formosa (Castello) - sketched again while my husband was doing his daily check of our email: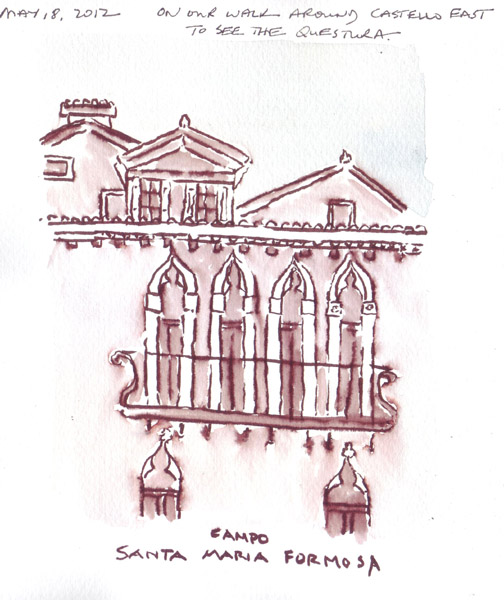 A short break for Cokes, during a very long walk, gave Sara and I another opportunity for a small sketch in Campo Santa Margherita (Dorsoduro). The sun felt so good that we even had time to add pen and watercolor.