More Elephants
I'm still drawing/painting elephants when I am home for the day and have 3 more to post today. These were all done with different tools, to challenge myself to use more of the art supplies I accumulated over the last few years.
Yesterday I read Laure Ferlita's blog post about "Luring Back Her Muse" and realized that my elephant project is how I am doing the same thing. I got to the point during these winter days where I was inspired to draw when out and about, but bored and apathetic when home.
Elephant 6 was drawn with warm gray and black Faber Castell Albrecht Durer watercolor pencils and then painted with water.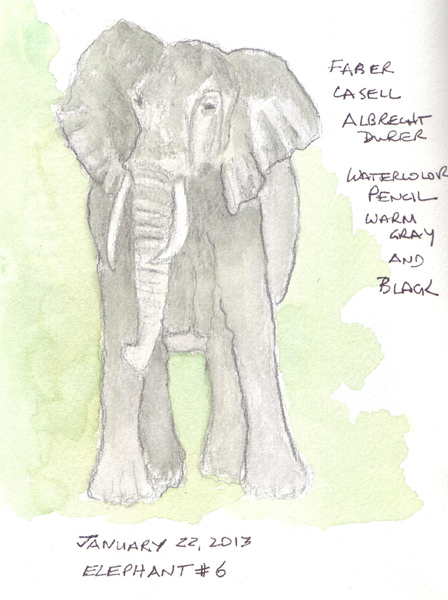 Elephant 7 was drawn with a Zebra Sarasa Clip 07 Brown gel pen and then painted with water. I have several brown pens to use for drawing and I tested their water solubility, finally selecting this one for the pale color that I could achieve.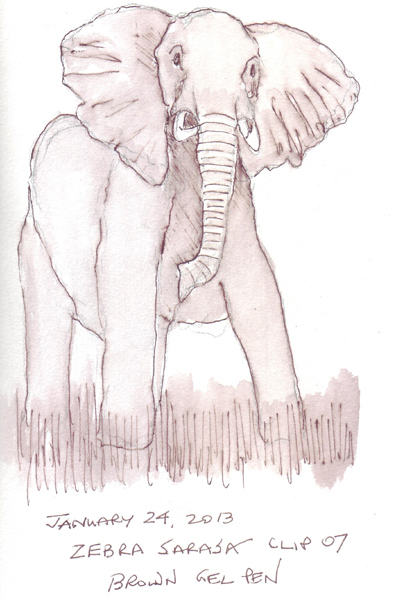 Elephant # 8 was drawn with a black Zig Millenium pen and then "painted" with a black Neocolor II watersoluble wax pastel - the only candidate in my box of 10 crayons.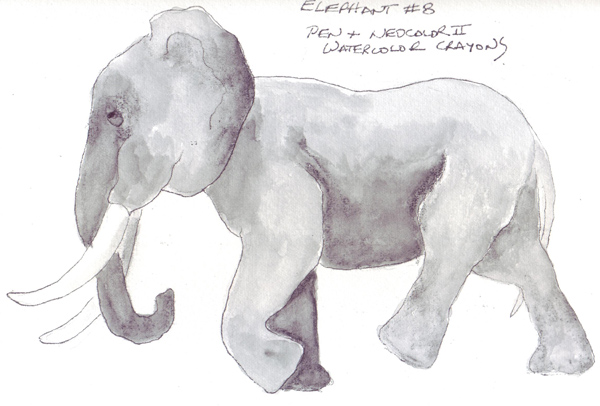 I still need to try other tools that I have, including inks and dip pens, acrylic paints, oil pastels, pan pastels, and a variety of pencils that I hate using - including charcoal and Conte. This project turned out to be fun and that was my intention. These cold winter days mean that I am busy at home and less likely to get inspiration from walks/trips around New York City.