Childhood Magic
Christmas weekend we took several of our New York City grandchildren to special programs. Five year old Callum needs some separate time with us, i.e. without big sister Sydney and big brother Henry, so we planned a movie date to see The Muppets. This was very nostalgic for us - since we watched the Muppet Show with our children every Sunday night and took them to see the first Muppet Movie. I had tears in my eyes during the reprise of "Rainbow Connection." Squirmy Callum sat at the edge of his seat with rapt attention.
This is a web image of our favorites - that I sketched to remember the day.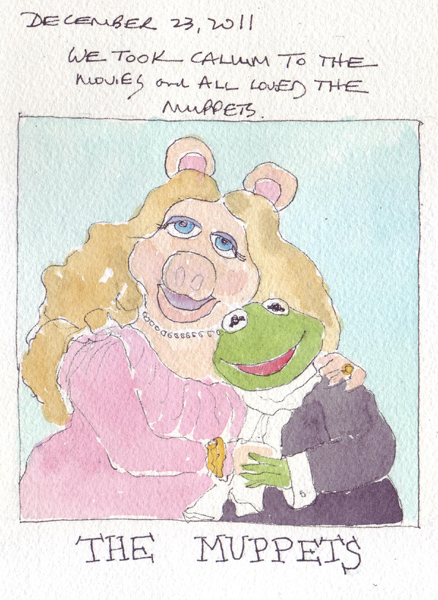 The next day we took Sydney, Robbie, and Callum to see Cathy Rigby in Peter Pan. I played the part of Peter in our 6th grade public school production and saw Mary Martin in the role at about the same time. Syd watches my videotape of that Broadway Show (from when it was rebroadcast during the decades of VCR) at least once per month in my apartment and also knows all the songs. Cathy Rigby was even better than Mary Martin and her gymnastic abilties at age 59, during the flying sequences, were not to be believed.
I sketched this from the program cover to create a sketchbook page for the day.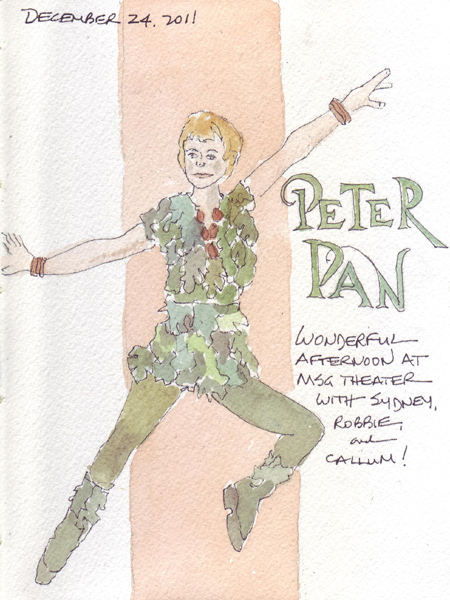 We talked to our DC grand daughter multiple times over the weekend, and my son sent this photo of Princess Annabelle - dressed in the sparkly princess dress that I made her for Christmas. She is also wearing the tiara I found for her at the NY Union Square Christmas Market, and the earrings that her other Grandma gave her to complete the outfit. We also have photos of her putting Princess spells on various things with the wand that matches the tiara.
We are going to meet her new baby brother William this week. My son also sent a photo of him in the blackwatch baby gown that he requested that I make for their family "blackwatch" Christmas Day morning celebration. So glad that it fit!
I would like to wish everyone a Happy and safe New Year's Eve celebration, and a joyous and artistically productive 2012. We have our 5 NYC grandchildren here (without parents) for a New Year's Eve party and sleepover - the very best way that my husband and I can think of to welcome each new year.