Venice 2012
We will be leaving for our Venice vacation within the next few days. I'm obviously very excited to be returning there to celebrate yet another wedding anniversary with my husband and friends.
I recycled a book called Italian Dreams this winter and posted a tutorial for bookbinding on this blog. And I did some watercolor paintings from photos from my 2002 trip to Venice to get my brain, eyes, and fingers ready for my travel sketchbook.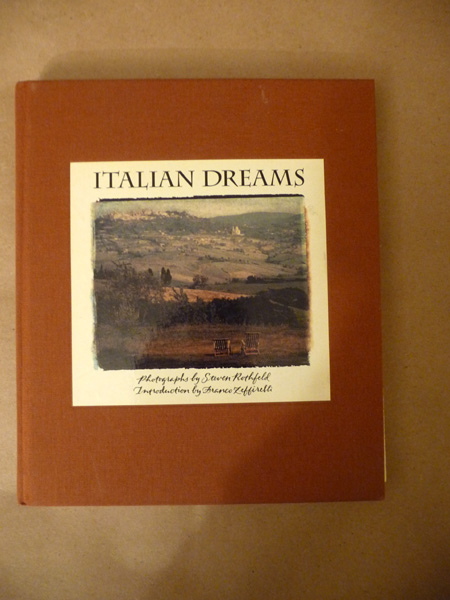 This week I started to put entries into my travel sketchbook. I love to have pages already done by the time we arrive, making it easier to just continue filling the book.
The first page is a tribute to Mari Le Glatin Keis. Here are the powerful ideas that I took from her book and added to my first page.
The Art of Travel With a Sketchbook
Sketching is not about doing "good" drawings or paintings. It is about being in the moment, about putting aside expectations and judgment and letting the hand record what the eyes see with whatever tool you have available.
It is not the aesthetic. It is only about the experience!
Be gentle with yourself and allow yourself to be fully in the moment.
In sketching, there is no expectation, no performance, no good or bad. There is just the pure pleasure of describing life as it is. Trust yourself and play. Behind every page , there is a moment, an emotion. No matter how "good" or realistic your rendering is, a simple line or color will bring you right back in the moment. You will be able to see, hear, feel, and smell....Instead of saying "I like this page," I say, "I loved this day."
Mari Le Glatin Keis
My second page shows pencils, pens, easers and brushes in my pencil case.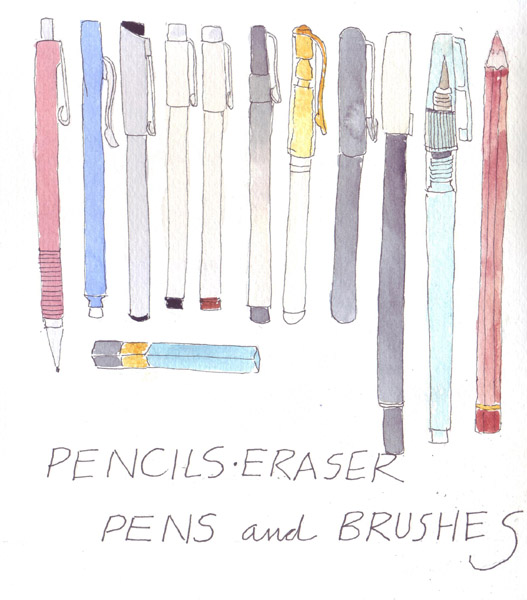 My third page is a sample of the watercolors I will have with me: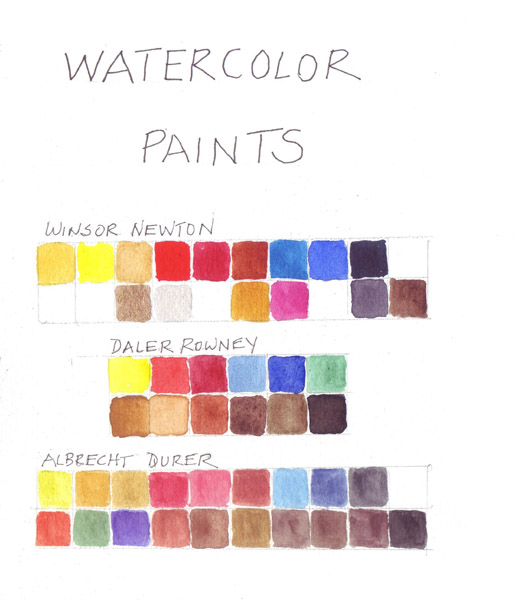 1. My small palette of Winsor Newton paints. This palette is small enough to fit into my small backpack or can stay in the apartment and used there.
2. My Daler Rowney travel watercolor set which easily fits into a pocket.
3. My 20 selected watercolor pencils which I can carry in a light, flat zipper pencil case - and use in museums where pens may be prohibited.
I am going to try to post some entries during our trip, but we won't know about the quality of our wifi connection until we arrive.