Studying Under the Masters - Cezanne Part 2
Each week of the this class, or with each Master Artist, we are encouraged to do at least one copy and then to try to apply techniques that we learned to our own art composition.
Cezanne painted figures, still lifes, and landscapes. But his landscapes usually had architecture - sometimes with many, many buildings going up a hill. I painted and sketched Cezanne's Card Players many times - both from the painting at the Met (with 4 card players) and the preparatory paintings and drawings that were at the Met several years ago in an exhibit reuniting many of Cezanne's Card Players. http://www.paperandthreads.com/2012/05/cezannes_cardplayer.php
This was a personal challenge project to try to work on some compositions repetitively. The painting that I copied for this course, Ginger Jar and Fruit, was a still life, so I searched through my Paris photos and found this church which I photographed on the way back from an exhibit at the Henri Cartier Bresson exhibit. I don't know the name of the church.
My goal now was to paint a landscape with architecture, to simplify the composition, to use an underpainting (except for the sky), and to use short brushstrokes to mix the watercolor pigments on the paper.
Here is the reference photo - in the snow!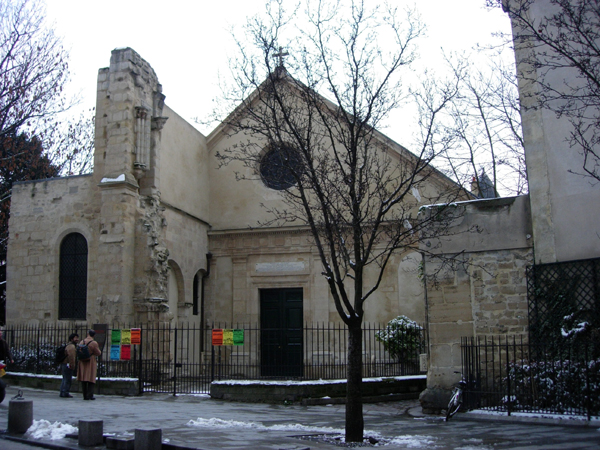 And here is my Cezanne-ish painting of the same subject.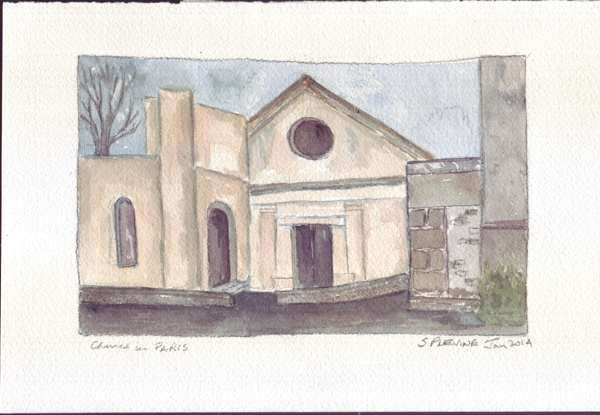 I really enjoyed Cezanne week, but today will move on with Jenny Lee Wentworth as she apprentices herself to Sandro Botticelli - one of the great early Renaissance painters. It is snowing again in NYC so I'm delighted that I will be comfy at home to start watching the videos.