Studying Under the Masters - Chagall 1
I love Chagall and recently saw a fantastic exhibit at The Jewish Museum of New York - with numerous paintings from his later years (Chagall: Love, War, and Exile). It is difficult to sketch in the museum from one of his complex paintings, but here is my quick, simplified sketch which I painted with watercolor when I returned home.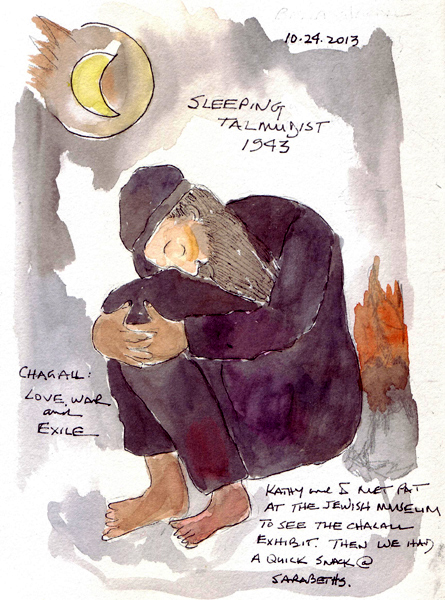 I had a difficult time selecting a painting to copy for my online art class - some were way too complicated and others were too simple. During this course I try to select a painting that will stretch me a little and finally found this painting from 1944 - called The Wedding. Only when I started drawing it did I realize that the couple were "under" a large red wedding chuppah - being held up by poles on the 4 corners.
I made 3 quilted dye-painted silk wedding chuppahs for my 3 children - and was then even happier that I chose this painting.
My Chuppahs: http://www.paperandthreads.com/2006/10/quilted_silk_wedding_chuppahs.php
Here is Chagall's original oil painting: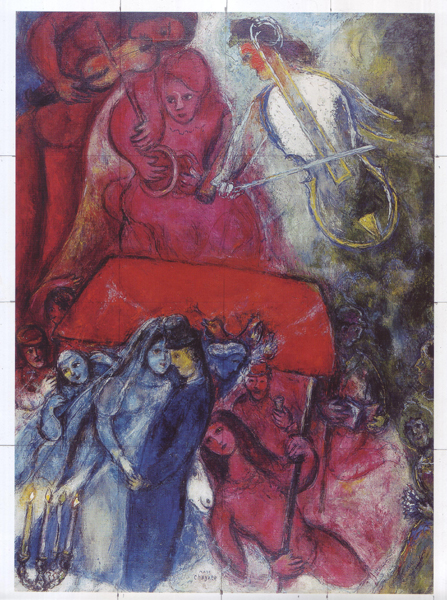 This is my drawing on 10 X 14" 140 lb watercolor paper - using graphite. Once I started painting, I was in the zone for the next few hours and totally forgot to take pictures. I like Katie's idea of setting a timer to remind us to take photos.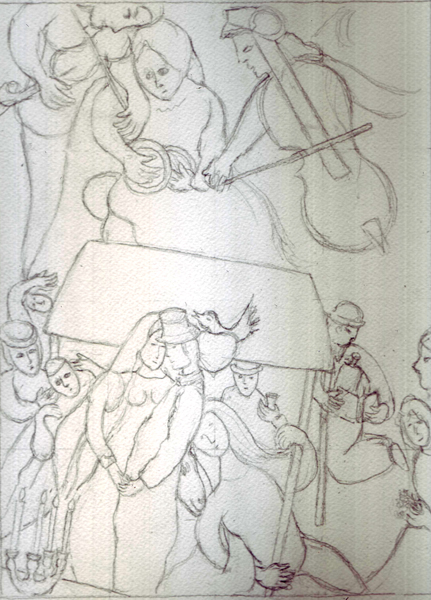 And here is my painting - done with Winsor Newton watercolors, white gouache, and some black, red, and yellow gouache. This class has allowed me to experiment with gouache with my watercolors, expanding my horizons significantly since I don't use acrylic or oil paints.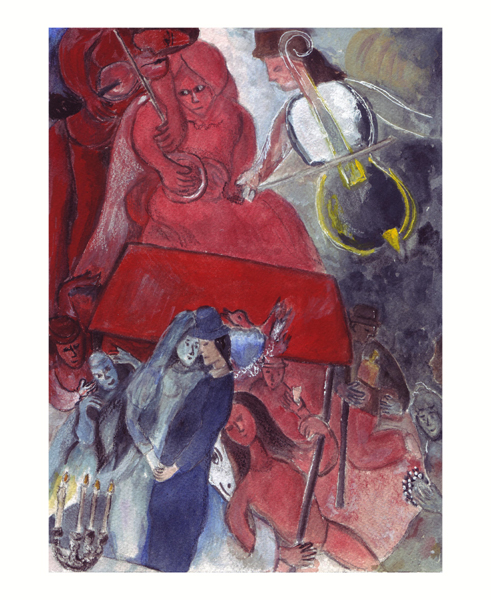 Next week we have a break - to catch up - and then have 3 more weeks and 3 more master artists. I haven't had time to keep up with my usual daily watercolor sketchbook and need to give it some affection!