The Need To Play
It is almost 5 years since I retired and one of my major concerns was finding friends who might share my interests - especially art. I always loved drawing and wanted to learn to use watercolors and keep sketchbooks - especially travel sketchbooks. And I'm delighted, as most readers of this blog know, that I found the best friends to share this newest passion.
On Tuesday evening, Teri, Benedicte, and I decided to get together the following afternoon, around my dining room table, to play and "make something." Pat is currently in Barcelona with Gwen Diehn - an honorary member of our group - making art all day, everyday, for 2 weeks. Teri proposed that she could bring some supplies and we could try to make abstract figures from an article in the current issue of Cloth Paper Scissors magazine.
From left to right: Benedicte, Teri, and Me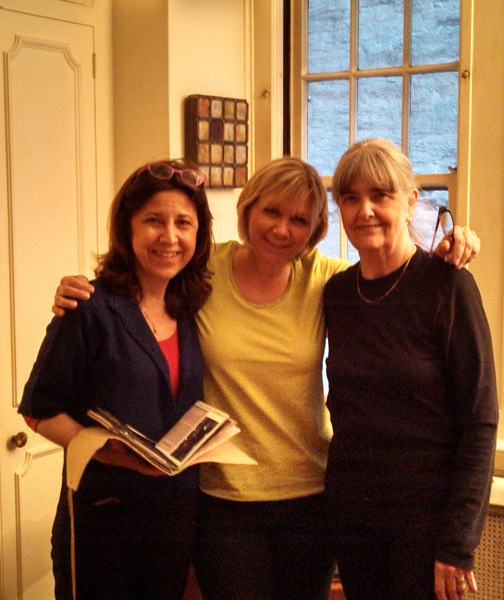 The article by Theresa Plas is called Abstract Figures - Building Layers with Tape Masks. I usually avoid any process involving acrylics, but thoroughly enjoyed these several hours during which we made collage papers with Gelli plates, painted several layers with different artist tape masks, added collage, and then pulled out a figure from the paper with Sharpie Paint Poster pens. All 3 of us enjoyed the process immensely - and just used whatever we had - making it a low stakes art experience.
Here are our 3 paintings. The phone camera changed the colors, but it hardly mattered because we were "just playing" and enjoying an afternoon together.
Benedicte:
Teri: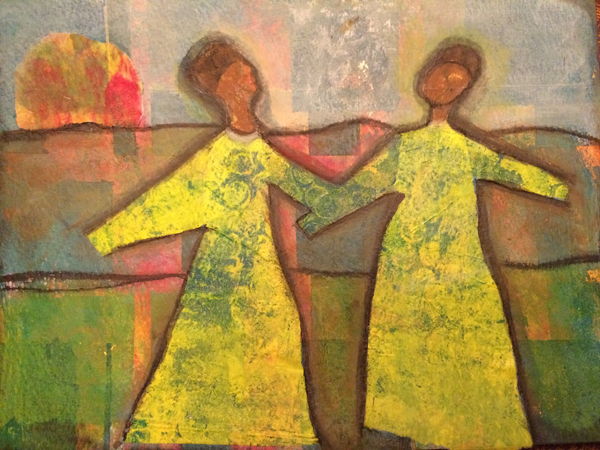 Mine: Definitely the least abstract - but expected with my interest in figure drawing!