Doodling Sketchbook
I doodled alot when I was a student in middle school and high school. And then I stopped almost completely. After that I drew images for my children, or for applique quilt patterns, but rarely did I just fill up pages with random spontaneous doodles. I'm sure that it is a wonderful creative technique and I'm fascinated enough by recent discoveries in neuroscience to realize that filling up parts of my brain with these random images must have some effect on creativity in general.
I'm reading Jonah Lehrer's new book, Imagine: How Creativity Works, which is all about the newest neuroscience data on creativity and especially "aha" moments. This makes me wonder what is really happening in my brain as I pay more attention to doodling sessions.
I visit my Mother weekly at her retirement complex and during the cold weather we take long walks inside the complex and sit for an hour talking. I now carry a doodle sketchbook and a dozen watercolor pencils and either sketch what I see, or just fill a page with doodles. I use an old, previously unused spiral journal with toned paper - and never think about wasting paper. I couldn't do this freely on good watercolor paper.
This page was done on a cold winter day - sitting in front of a fireplace.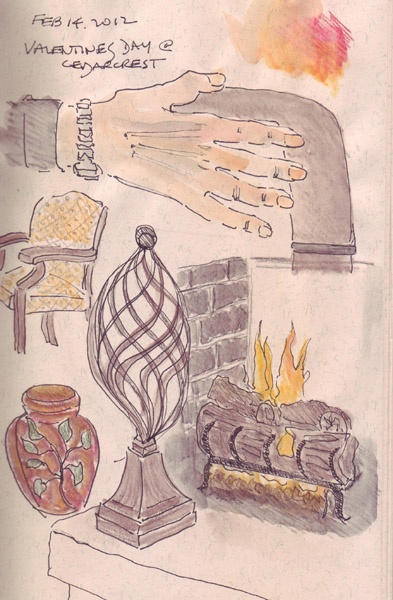 These next 3 were done by spontaneously doodling. I have no idea why there are birds on almost every page (I just uploaded 3 of many weekly pages in my journal). I am not a bird lover and only draw sea gulls when we are walking on the beach.