A Few Sketchbook Pages From Last Week
Last Week Pat and I spent 2 full days out and about. On Friday we went to Christies to see the previews for the South Asian Modern + Contemporary Art in the morning and the preview for the huge Interwoven Globe exhibit at the Met in the afternoon. Lunch in Rockefeller Center was a wonderful break between these two events and I sketched a few of the flags while we were eating and resting.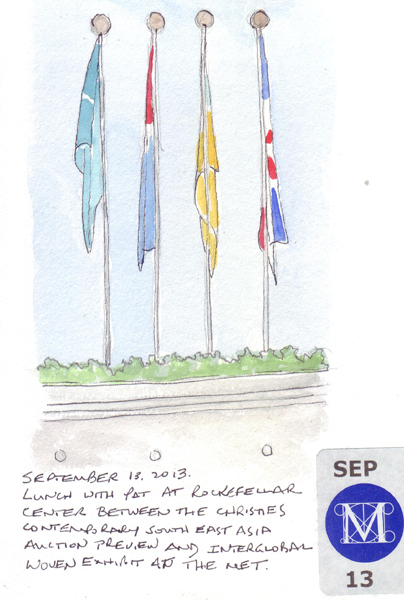 On Sunday I went to the New York Public Library to return a book, and couldn't resist standing in the sun and sketching one of the Lions that welcome visitors to the Main Library on both sides of the stairs.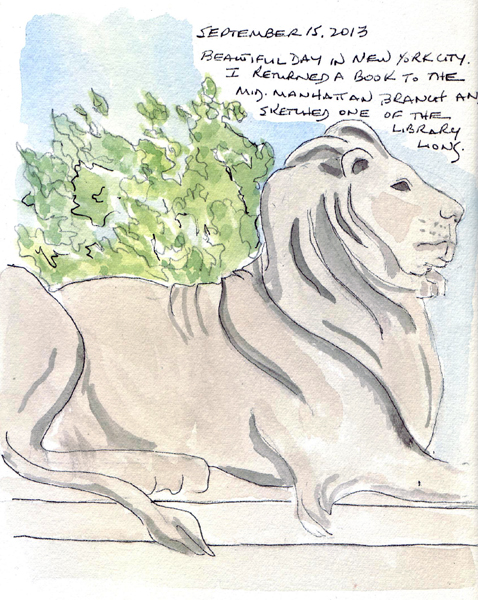 I was returning a book to the Mid-Manhattan branch (a circulating branch across from the big Research Library) and I found two terrific books in the drawing section. I brought home one to read and will borrow the other one on my next visit.
The first is: More Than Words: Illustrated Letters from the Smithsonian's Archives of American Art. Liza Kirwin, 2005.
The second is: Queen Victoria's Sketchbook by Marina Warner. I looked through the entire book and was surprised to learn that she kept a sketchbook during her entire life. Many drawings are in pen and ink, others also were painted with watercolor. She sketched people in her life, opera characters, ballet costumes, and occasional places. When I have time, I'd love to read it.