New Projects
Before I decided to enroll in the "Studying Under the Masters" Online class this winter, I bought Veronica Lawlor's book One Watercolor a Day so I could play with loose watercolor exercises during the dark winter days. It is designed for 42 days (6 weeks) and this week I started the book and did 4 exercises in my 9 X 12" 140 lb Watercolor Strathmore Visual Journal. Here are exercises from 2 days.
Day 3: Red Monochromatic Painting of a Dreamscape
I was inspired by a mosaic in the Lincoln Center Subway stop and used scarlet red, permanent alizarin crimson, and these mixed with gold gouache and Payne's gray.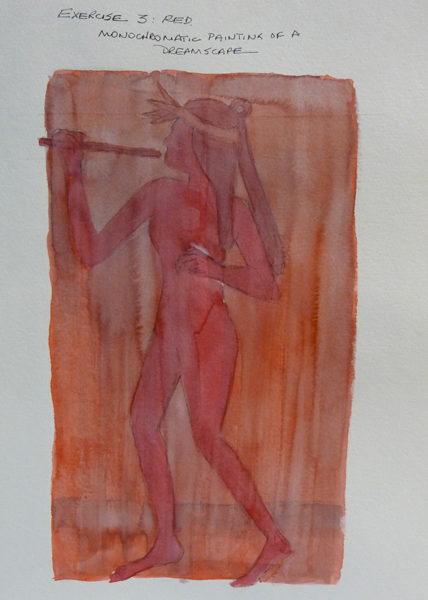 Day 4: Color Studies
In this exercise I needed to paint the same still-life using 3 different color combinations. I used Van Dyke Brown for the Monochromatic painting, Yellow, yellow orange, and yellow green for the Analogous painting, and blue, yellow-orange and a 3rd color which was supposed to be red-orange. My other mannequin models are a pencil drawing and a vellum paper drawing in analogous colors - just to continue to play....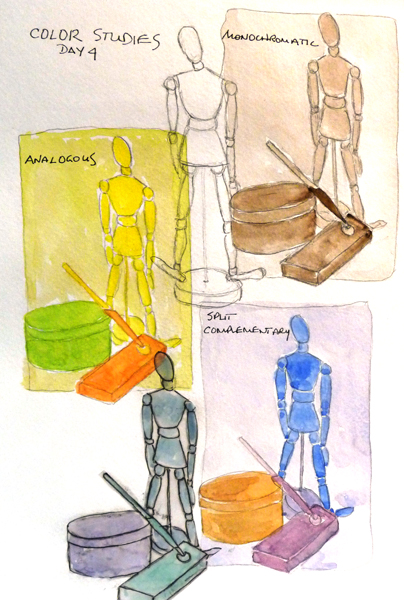 The rest of the days I painted tulips twice - trying to paint the petals wet-on-wet - and one brushes/paint still life. We are so ready for Spring in New York City - and yesterday the tulip plants in front of my apartment were 3-4 inches high. I painted this week from tulip photos that I took last year.