Inspiration - Part 1
The Metropolitan Museum of Art Costume Institute Gala occurs in May each year, the evening before a big Fashion Exhibit opens to the Members and then the Public. Two years ago the Alexander McQueen exhibit was the 8th most visited overall exhibit in Met history. The 2014 Gala was held on Monday night for the opening of "Charles James - Beyond Fashion." He was a great Anglo-American couturier who died in 1978. He was born in Britain but spent his entire career in America and his innovations were extraordinary. The Met website has photos and videos.
http://metmuseum.org/exhibitions/listings/2014/charles-james-beyond-fashion
My daughter and I went to the member previews on Wednesday - and loved seeing the clothes and especially the 15 Ball Gowns that were distributed throughout one huge gallery - and could be seen from all sides.
Here is my favorite - called the Swan Gown. The color depth for the tulle skirt was achieved by using shades of brown, and a layer each of purple and yellow. I spent Tuesday mixing complementary colors to make brown-taupe dyes in my silk painting with dyes class, but never considered how mixing the colors in sheer layers could achieve such depth of color.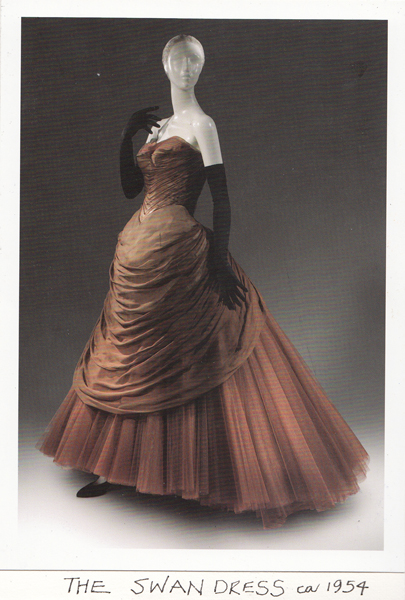 Charles James' other clothes (approximately 50 garments) were displayed in the new Anna Wintour Costume Institute on the ground level. I decided to quickly sketch one of his innovations - a white Satin Evening Coat filled with eiderdown to compete with Schiaparelli's popular mink evening jackets. Each of the lines in my drawing were seams and each section of the jacket was stuffed separately with down.
I finally bought myself a really warm short black down coat this winter and never was happier - or warmer! Thank you Charles James. I also read that he introduced strapless gowns and wrap dresses.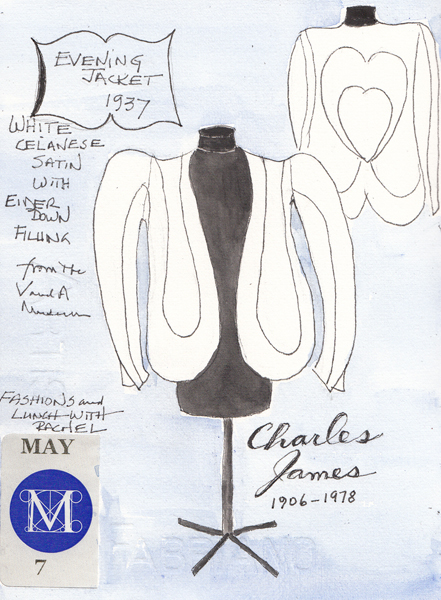 If anyone would like to see how the guests in the gala were dressed, here are two links.
Walking the Red Carpet - in Ball Gowns:
http://www.nytimes.com/interactive/2014/05/05/fashion/met-gala-red-carpet.html?_r=0
http://fashion.telegraph.co.uk/galleries/TMG10809711/Met-Ball-2014-Stars-at-the-Anna-Wintour-Costume-Center-Gala.html
Next: Inspiration Part 2: Jasper Johns at the Katonah Museum of Art